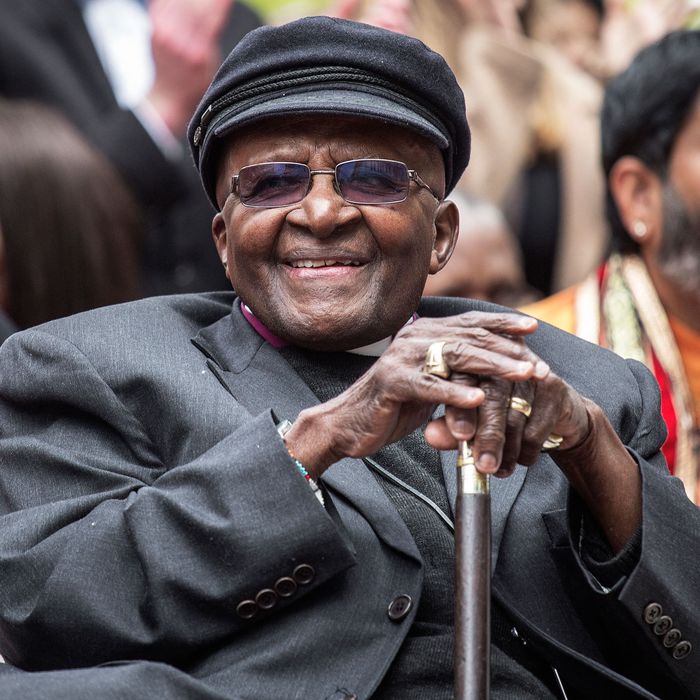 Photo: GIANLUIGI GUERCIA/AFP via Getty Images
Activist, clergyman, and Nobel Peace Prize winner Desmond Tutu has died. The South African icon reportedly died on Sunday, December 26, due to complications relating to cancer. He was 90 years old, and is survived by his wife of more than 60 years, Nomalizo Leah Shenxane, their four children, and seven grandchildren. As part of a seven-day mourning period in Cape Town, Tutu will lie in state for two days at St. George Cathedral in Cape Town, per the Associated Press.
Archbishop Tutu is best known for his dedication to fighting inequality all over the world. He rose to prominence as a vocal opponent of apartheid in South Africa, winning the Nobel Peace Prize in 1984, and in 1994, was appointed to be the chairman of the Truth and Reconciliation Commission by Nelson Mandela. In 2013, he launched a campaign for LGBTQ rights in Cape Town, saying at the time, "I would refuse to go to a homophobic heaven. No, I would say, 'Sorry, I would much rather go to the other place.'" In recent years, he also spoke out against Israel's treatment of Palestine.
South African president Cyril Ramaphosa remembered Tutu on Sunday, saying in part, "From the pavements of resistance in South Africa to the pulpits of the world's great cathedrals and places of worship, and the prestigious setting of the Nobel Peace Prize ceremony, the Arch distinguished himself as a nonsectarian, inclusive champion of universal human rights." And many world leaders and celebrities around the world have also released statements remembering Tutu.
"Archbishop Tutu was a mentor, a friend, and a moral compass for me and so many others. A universal spirit, Archbishop Tutu was grounded in the struggle for liberation and justice in his own country, but also concerned with injustice everywhere," wrote President Barack Obama. "He never lost his impish sense of humor and willingness to find humanity in his adversaries, and Michelle and I will miss him dearly."
Prince Harry and Meghan Markle also released a statement, praising Tutu's "moral clarity" and "joyful spirit," adding, "It was just two years ago that he held our son, Archie, while we were in South Africa — 'Arch and The Arch' he had joked, his infectious laughter ringing through the room, relaxing anyone in his presence."
Oprah, Bernie Sanders, Charlize Theron, Bernie King, and others also took to social media to pay tribute.