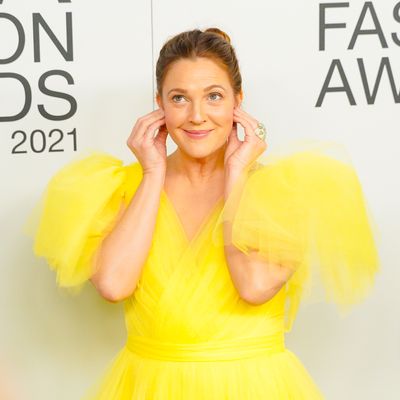 Photo: Sean Zanni/Patrick McMullan via Getty Image
Holding onto faith while online dating is a struggle on a good day. On a day when you find out that Drew Barrymore has trouble finding matches on dating sites, it's near impossible.
In case you're not watching The Drew Barrymore Show, (a) what are you waiting for, it's perfect, and (b) every episode ends with a game of "Drewth or Dare," where Barrymore takes personal questions from audience members. And on Monday, December 20's "Drewth or Dare," she went deep talking about her dating-app experience. "No one has connected with me," she told the audience. "It makes me feel like such a loser." I never thought I'd say this, but I think Drew Barrymore and I have the same dating life right now.
Unlike me, though, Drew has hope. "It's just hard out there. It's hard out there for everybody. It's hard in person, it's hard on dating apps, it's vulnerable," she continued. "But you keep trying."
Her advice for keeping your head up while checking all those empty inboxes on Bumble or OKCupid, or whatever dating app she uses, is to make sure your happiness doesn't depend on a relationship. "I don't think my happiness is on this dating app. I think a cherry on top to my life at some convenient, cool, inspiring, unexpected time might be in there — but that's all it is."
Barrymore seems at peace with her bad luck on the apps, and while I admire her confidence, I also have to wonder about the state of men in general. Who is swiping left on Drew Barrymore? Who is leaving her on read? Imagine coming across Drew Barrymore — a Charlie's Angel, a true national treasure, a light in daytime-television darkness — on a dating app and thinking, "Eh, I can do better." It could never be me.