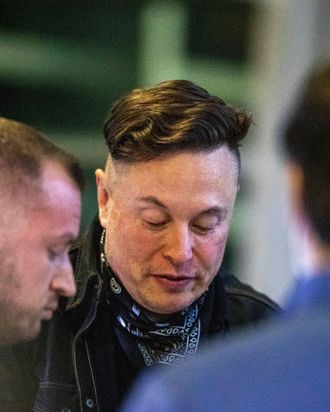 Why?
Photo: DIGGZY/JESAL/Shutterstock
'Tis the season for Time to choose its mascot for 2021, someone who "shaped the previous 12 months, for better or for worse." Someone who encapsulates the Zeitgeist, whose persona spans all the highs and lows that defined the past year. The hope for widespread vaccination and the disappointment of the Delta (then Omicron) variant? The catastrophic weather events wrought by the climate crisis? The widening wealth gap and mass exodus of workers from shitty and unsatisfying jobs? The stuck boat and the calamity of global commerce? The return of inexorably horny celebs to the public landscape? So much has happened — who will stand for all of it?
Elon Musk, according to Time. Musk graces the magazine's cover as its Person of the Year, his little pancake of hair resting on his crown as if someone had just flipped it out of a skillet and onto the plate of his head.
Previous Persons of the Year have included Donald Trump, Joseph Stalin, Adolph Hitler, and "the computer" along with Martin Luther King Jr., Ebola fighters, and Greta Thunberg, making this a somewhat murky honor. Still, it is reasonable to ask here: What has Musk done to deserve the title? In the past 12 months, he has hosted SNL, trolled some lawmakers, emerged as an agent of chaos in the cryptocurrency market, and moved into a house in a small Texas town he attempted to rename with a tweet. Notably, he cut his hair into a permanent beret after a breakup with Grimes. But please, Time, explain yourself:
Person of the Year is a marker of influence, and few individuals have had more influence than Musk on life on Earth, and potentially life off Earth too. In 2021, Musk emerged not just as the world's richest person but also as perhaps the richest example of a massive shift in our society. From Amazon's Jeff Bezos to Facebook turned Meta's Mark Zuckerberg, the year brought home the extent to which, at a time of rising protest over ever deepening inequality, our lives and many of the basic structures around them are now shaped by the pursuits, products and priorities of the world's wealthiest people.
The aforementioned billionaires, the profile explains, have already been named Time Persons of the Year, and "even in that rarefied crowd, Musk is in a class of his own. He sees his mission as solving the globe's most intractable challenges, along the way disrupting multiple industries across two decades." Some of those industries include electric automobiles (see: Tesla, which now allows drivers to play video games while their cars are in motion), space (see: SpaceX, which sent the first all-civilian crew into orbit in September), hypothetical tunnel-digging (see: the Boring Company, which … what does this company actually do?), and, I would say, hair. See his hair? See how it is just sitting on top of his head like a toupee, no side coverage to blend it into its environment, just hair as a hat for the purpose of … ?? Time credits Musk with "creating solutions to an existential crisis" — whose? — as well as "embodying the possibilities and the perils of the age of tech titans" and "driving society's most daring and disruptive transformations." I assume on all counts that we are talking about his undercut.