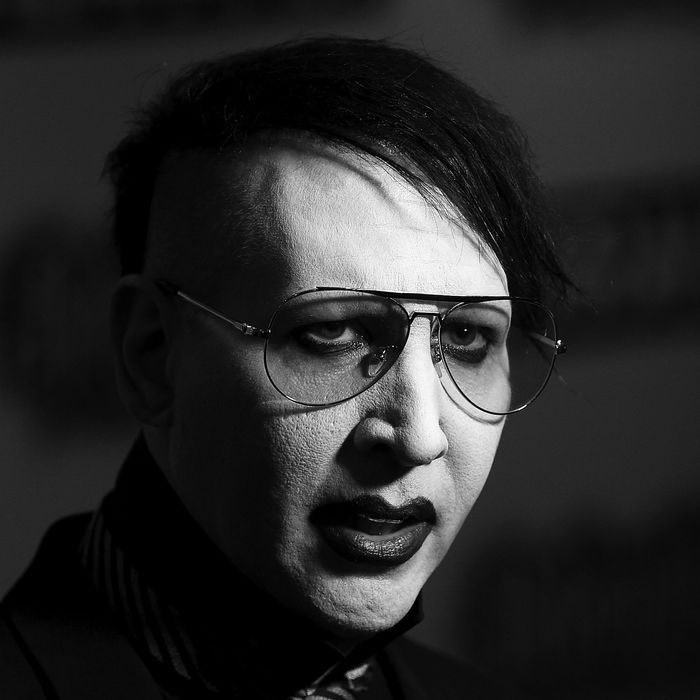 Photo: Danny E. Martindale/Getty Images
In February, Evan Rachel Wood identified Marilyn Manson as the former partner who she'd previously told Congress had raped and beaten her. Since then, more than a dozen women have come forward with similar accusations of sexual abuse and sex trafficking against Manson, whose legal name is Brian Warner. The reports are harrowing: Wood described "sick rituals" that involved "binding me up by my hands and feet to be mentally and physically tortured," and other women recalled being locked in rooms for hours, offered up for sex with Manson's friends, forbidden from eating or sleeping, and tortured with whips and electric devices. Now newly unearthed court documents allege Manson threatened his accusers and their children when they tried to make their allegations public.
The documents, published by the Daily Mail, are pulled from a March custody hearing involving Wood and the father of her child, actor Jamie Bell, who claimed Wood had moved their son out of L.A. away to keep him away from his father. According to Wood, she moved to Nashville to distance her son from Manson and his followers, who were sending her frequent death threats. "I am extremely afraid of the alleged offender," Wood wrote in one document, referring to Manson. "I am afraid that he will seek retribution against me by harming me, our son, and members of our family." She claimed Manson had threatened to "fuck" her 8-year-old son and told a judge she had bulletproof-glass windows, a steel door, and a security fence to ensure her safety. She said she had looked into keeping "attack dogs and security guards at night."
Wood said Manson also threatened the families of other women who had spoken out against him including one who recorded him saying he had photos of her children going to their mailbox and knew their Social Security numbers. "I've got everything," he allegedly told the woman. "They're fucked, and they're going to be fucking destroyed."
Wood reiterated her claims Manson had used Nazi paraphernalia as part of his abuse and added that he targeted Jewish women. Wood, whose mother converted to Judaism and raised her with the religion, previously said Manson told her it was "better" she wasn't "blood Jewish." Ashley Lindsay Morgan, who came forward the day Wood did and is also Jewish, said Manson asked her to bring him Nazi memorabilia from Thailand including throwing stars and knives. At the hearing in March, Wood said he and his "network of fanatics," whom she described as "extreme Satanists, pedophiles, and Nazis," were the main reason she left L.A. She claimed his followers helped him "kidnap, abuse, and ritualistically torture people which included binding, whipping, cutting, rape, and forcing people to drink blood."
Despite facing four lawsuits accusing him of sexual assault, sexual battery, and human trafficking, Manson continues to deny the allegations. Most recently, he was nominated for a Grammy for his work on Kanye West's Donda.