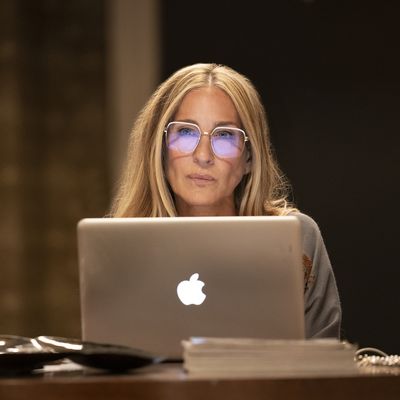 The first two episodes of And Just Like That … have arrived, and with them answers to some of our most pressing questions, like: Is Carrie really podcasting? (yes) and does Brady fuck? (unfortunately, also yes). Like all good art, these episodes also pose new questions for us to turn over in our minds. Like, would Carrie really have an "I Voted" sticker on her phone? Why is Miranda ordering chablis? And if there's a pandemic, why isn't there a mask in sight? Below, (almost) every thought and question the Cut staff had while watching the first installment of the Sex and the City reboot. (Spoilers ahead).
Jen Ortiz, deputy editor: Watching this is such an unhinged way to start the day.
Emilia Petraca, senior fashion writer: I haaaate that they start with pandemic jokes.
Jen: Corona is our fourth gal now.
Bindu Bansinath, editorial fellow: And yet no masks! There are, however, glittery gloves for elevator buttons.
Lindsay Peoples Wagner, editor-in-chief: As a life-long watcher of Sex and the City and both movies, it was nice seeing everyone back together, for better or for worse. Well, everyone besides Samantha. Though they brought her up every 10 minutes.
Danielle Cohen, blogger: Crazy how much they can involve Samantha without Kim Cattrall at all.
Jen: They did Samantha dirty. She was a good friend and wouldn't do that. She repped Carrie for free!
Olivia Truffaut-Wong, night blogger: I'm just so fascinated by Miranda.
Andrea González-Ramírez, senior writer: I thought Miranda was supposed to be the smart and sane one, and here, well …
Lindsay: There were too many cringe Miranda moments, and it's just not like her.
Kerensa Cadenas, senior editor: Yeah, she's not that clueless of a white lady.
Olivia: I don't know, I feel like it made sense that Miranda would be that white woman.
Lindsay: I can tell Miranda has no WOC friends, lol.
Erica Schwiegershausen, senior news editor: Was I the only one who felt like they were intentionally trying to make every original cast member seem wildly out of touch?
Jen: Or like they were trying to rewrite history in a too-flattering way? Like you left corporate law, okay sure.
Andrea: And they gave them new POC/queer friends.
Danielle: They literally assigned a non-white friend to each of the three women. Speaking of which: Should we address Anthony calling Nicole Ari Parker's character "Black Charlotte."
Lindsay: I don't know who wrote that, but they should be fired.
Andrea: "Black Charlotte" is so bad and yet something a rich white Manhattanite would say without thinking twice.
Lindsay: What do we think about Miranda's grey hair?
Olivia: I liked the grey hair, but it definitely felt like they wanted to make sure that we know that they're older.
Bindu: Yeah, and Charlotte pressuring Miranda to dye it red felt contrived and sad.
Joanna Nikas, deputy style editor: It seemed like they haven't figured out what direction they want to go in with addressing time passing in general, hair included.
Danielle: Miranda's weirdness aside, I must respect her for openly refusing to listen to Carrie's podcast.
Joanna: Wait, was I the only one who thought the french fry conversation was weird? Like, who cares if you order fries?
Danielle: Yeah, we are far past women bonding over feeling guilty about loving fries.
Erica: The show seems really confused about time. It feels stuck in the past in some ways, and trying to prove it knows its 2021 in others.
Kerensa: Which makes it feel more dated.
Jen: Carrie's "I Voted" sticker on her phone made me mad. Carrie would never.
Erica: Also, we're supposed to believe Carrie cooks now? No she doesn't.
Emilia: And what is she, the Sartorialist?
Jen: Also, is Miranda going to have a drinking problem? Love a 10:45 a.m. glass of Chablis.
Erica: Again: What time period are we in?!
Danielle: Also … BRADY FUCKS????? Disturbing.
Andrea: I have to say that despite using the phrase "turn your pussy up," Sara Ramirez is very hot in this.
Erica: Should we talk about Carrie being a prude?
Bindu: That podcast recording was one of the moments where I missed Samantha the most.
Jen: Give Samantha a podcast!
Danielle: It makes sense though, because in the original show they are all scandalized by, like, the tiniest kinky things.
Lindsay: When Carrie asked Big to masturbate in front of her … I'm sorry, it was so bad. She needed Samantha's help.
Jen: Yeah, not what I needed to see before coffee. Speaking of Big …
Andrea: Death by Peloton is a choice.
Kerensa: I can't believe they did it in the first episode!
Lindsay: I'm very sad about Big and I'm not afraid to admit it.
Jen: I was devastated. I cried very hard, lol.
Andrea: I wish they had edited it differently, though. With the piano music, it felt a bit like a parody or a telenovela.
Jen: I do 100 percent blame Charlotte. I would never go to a friend's kid's recital.
Danielle: Also: Who knew Big had a brother?
Olivia: A very small brother!
Andrea: My main takeaway after coming into this cold is that everyone is pretty insufferable.
Danielle: Charlotte's skateboarding daughter is the coolest person on this show.
Andrea: I loved that she showed up with that T-shirt and beanie.
Kerensa: We stan a skateboarding icon.
Danielle: Also, Anthony's hot-men-delivering-sourdough business means those set photos were indeed real.
Kerensa: Stanny and Anthony being married still makes no sense.
Jen: I hate the voice-overs at the end.
Andrea: And just like that … I probably won't watch the rest of the revival.