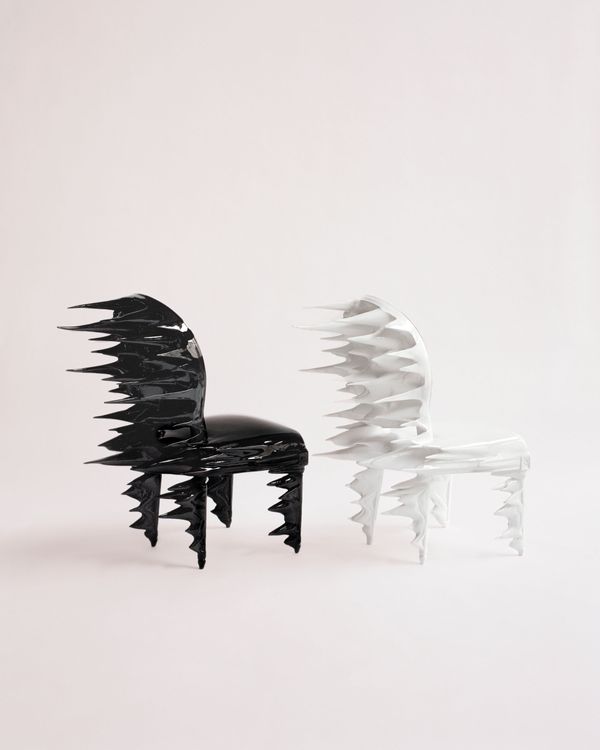 Meant to look like they are "traveling in time, caught in motion." I was told by an assistant at the Dior Medallion Chair project that Ma Yansong's 3-D-printed chairs were the "It" chairs of Art Basel and Design Miami this year.
Photo: MA YANSONG ©KEN NGAN/Dior
This year's Art Basel saw a number of luxury fashion houses eager to show off their new … chairs? Chairs. Of course, high fashion's fascination with furniture design isn't exactly new. Rei Kawakubo started making (mostly nonfunctional) chairs in the '80s, while Fendi launched Fendi Casa, an actually usable home collection, in 1988. Louis Vuitton and Hermès ventured into furniture some 30 years later, with the former inaugurating Objets Nomades — its furniture and design store — a year after Hermès debuted its first furniture collection at Milan's design week in 2011. More recent years have seen the inception of Gucci Décor (2017) and Maison Dior (2019), the brands' respective home-goods ventures, while Balenciaga and Miu Miu showed their own questionable furniture collaborations at Art Basel in 2019.
But back to these chairs. Yes, the pandemic led to substantial growth in sales of home furnishings, but even without that, the fashion world's infatuation with our Sitzfleisch makes sense; fancy furniture has the same aspirational bent as fancy shoes, and if a brand can't be on your body, surely it would like to be in your home, even if it's not something you can actually sit on.
That was the case for quite a few of the chairs that fashion houses debuted at this year's Art Basel and Design Miami, where Dior, Louis Vuitton, and Fendi revealed their latest experiments in furniture (or, one could argue, sculpture). Below, some of our favorite fashion chairs from this year's events.