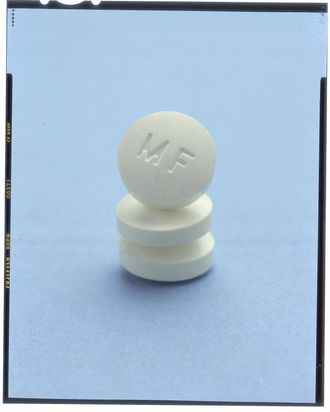 Mifeprex, the first of two drugs taken during a medication abortion.
Photo: James Worrell/The LIFE Picture Collection/Shutterstock
As of yesterday, abortion pills will be available by mail nationwide — at least in states without specific bans in place. On December 16, the Food and Drug Administration lifted a long-standing requirement that the medications must be procured directly from a provider. This is great news for patients who might otherwise have to drive hours to the nearest clinic (or who simply want to stay home during a pandemic or who enjoy convenience), though many states with scant access have already implemented regulations around telemedicine abortion. This is disappointing for lots of reasons, chief among them the success of TelAbortion pilot programs, which, over the past few years, have proved the obvious to be true: Medication abortion is just as safe whether you see your doctor on your computer screen or in their office.
Medication abortion is authorized up to ten weeks into pregnancy, which is when the majority of abortions occur anyway. In 2019, the most recent year for which CDC data is available, just under 93 percent of nationally reported procedures took place in the first trimester (before 13 weeks). That same year, over 42 percent of all reported abortions in the U.S. were medication abortions. A patient takes two drugs: First comes mifepristone, or Mifeprex, which blocks the body's production of the pregnancy hormone progesterone and cues the uterine lining's detachment. Then comes misoprostol, which triggers the uterine contractions that expel the pregnancy.
Although the complication rate for medication abortion is very low (under 0.5 percent), the FDA classed Mifeprex in its Risk Evaluation and Mitigation Strategy program in 2011, a designation for "certain medications with serious safety concerns." That meant Mifeprex had to come directly from a clinic, hospital, or doctor. But earlier this year, the Biden administration waived that requirement for the duration of the pandemic. Now, the agency says it has "conducted a comprehensive review of the published literature, relevant safety, and adverse event data," along with "information provided by advocacy groups, individuals, and the applicants" in reaching its decision. Which, about time.
Still, 19 states require a clinician to be physically present when a patient takes the first pill. Additionally, the Guttmacher Institute's Elizabeth Nash told the New York Times that, just this year, six states have prohibited pills by mail, seven have introduced requirements obligating patients to get them from a doctor, and four have narrowed the window in which medication abortion is available. These are, overwhelmingly, the same midwestern and southern states that have piled logistical restrictions on clinics and/or instituted unconstitutional bans on the procedure itself. Texas, for example, bans medication abortion after seven weeks as of December 7, which falls in line with its vigilante ban on all abortions after about six weeks. Texas providers who prescribe the pills via telemedicine or mail can be jailed for doing so.
As the U.S. Supreme Court prepares to reconsider the terms set by Roe v. Wade, the provision of medication abortion by mail becomes crucially important: Were the Court to reset the deadline for legal abortion at 15 weeks, for example — nearly two months earlier than the current viability standard — prospective patients would have to navigate more hurdles in a shorter time period if they wanted to access abortion in person. The ability to consult a doctor on your phone, then go to the pharmacy or your mailbox, cuts through a lot of that red tape. Per the Times, some blue states — including California and New York — plan to expand telehealth services to help people in states trying to end the practice.