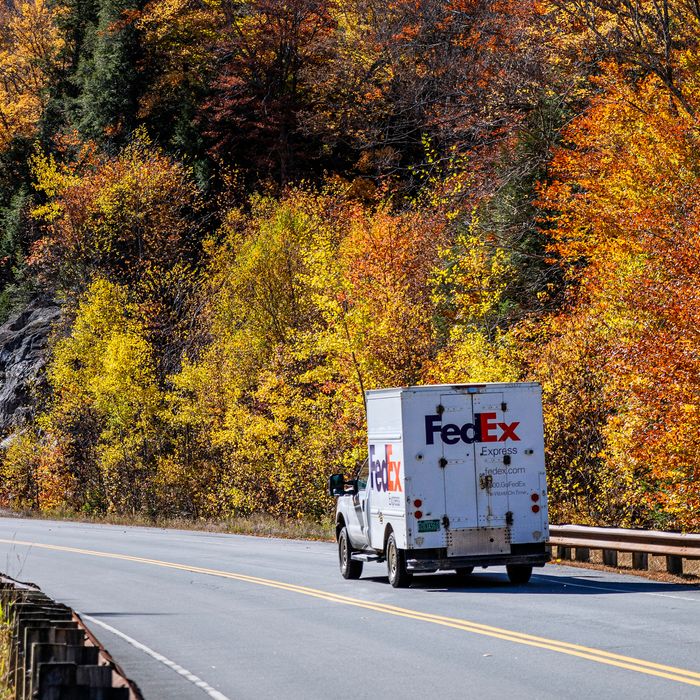 OMW to chuck some packages off a cliff.
Photo: John Greim/LightRocket via Getty Images
True, I don't know anything about you, but I am willing to bet that you have at some point found yourself wondering if that item you ordered weeks ago just like … fell off a cliff on its way to you. I mean, it happens! Most recently in Alabama, where a FedEx driver apparently chucked hundreds of packages into a ravine, rather than delivering them to their intended destinations. Maybe you can kind of see the driver's point?
The New York Times reports that this person — who has not been named publicly — "is no longer providing service," per FedEx. This after a November 24 announcement by the Blount County Sheriff's Office, saying deputies had located a ravine strewn with 300 to 400 packages (the Washington Post says 450!) in all shapes and sizes. They had to send in a whole fleet of trucks to clear the cache, and on Thanksgiving no less. Officials salvaged shipments where they could, though as you can imagine, the boxes and their contents got pretty banged up on their way down the hill, many mashed further as the driver tossed new inventory on the pile. Sheriff Mark Moon believes this individual made at least six trips to the ravine, and now FedEx is scrambling to deliver the missing goods where possible. Some local consumers seem to appreciate the effort: "We got a package from the ravine delivered," one responded to a Facebook post Moon made about the big dump. "Even though the food was spoiled since it came a week after it was supposedly delivered, we were glad to at least get it." That's the spirit!
The driver has not been criminally charged, though Moon predicts "the FedEx debacle" will "not be an easy or fast case to close," so we will see. He asks the public's patience at this time, though patience — particularly patience while awaiting packages — tends to be stretched pretty thin this time of year. Which brings me to my final point: The Times describes FedEx as the "victim of multiple cases of theft of property," but I have a hard time swallowing the idea of FedEx as the wronged party in all of this. Though we know nothing of the driver's motivations at this time, we do know that delivery drivers often work in hellish conditions, which the annual crush- load of holiday orders only exacerbates. (The supply chain crisis probably isn't helping! "We reap what we sow" is I think what they say?) At FedEx, the insistence on speed has actually cost some workers their lives. Gawker suggests that the overwhelming stress of any job may kindle resentment of the employer, manifested in a bunch of different ways from (and this is hypothetical) quietly pilfering office supplies to (again, maybe) drop-kicking packages into the abyss. Seems plausible to me!