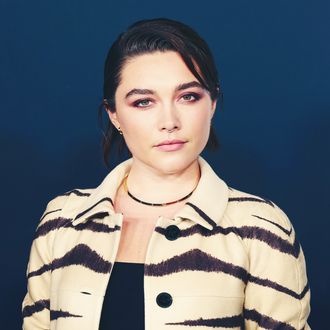 Photo: Taylor Hill/FilmMagic
Florence Pugh is technically an actor, but like all hard-working millennials, she keeps a number of side hustles stashed in her back pocket. At one point, it looked like she was en route to becoming a young, top-knotted Ina Garten. But she's since moved on to try her hand doing sponcon for Christmas trees. I think she's really getting the hang of it.
Most recently, she's acquired the skill of looking impossibly hot in front of a very lucky pine retailer. Here she is with her gravity-defying new hair, wishing us all a merry Christmas:
Would you buy these Christmas trees? I sure would, and I wouldn't mind a pair of those sunglasses too. I'm certain one of these trees will give me dewy skin and picture-perfect bed head. It will probably also make the sun hit my hair from behind like a mussed-up halo of ethereal light. Maybe the tree will even make me look good with a septum piercing?
For those not keeping track, this gorgeous seasonal tableau is the third iteration of Short Haired Florence we have seen, the first being a grade-A mullet and the second being this little red coiff. I, for one, appreciate her work to help destigmatize the concept of making a drastic hair change, which is now apparently just a cool thing hot people do.
Apropos of nothing, now is a really good time to buy a Christmas tree if you haven't done so yet. Maybe Florence's hot brother is handling the sales?