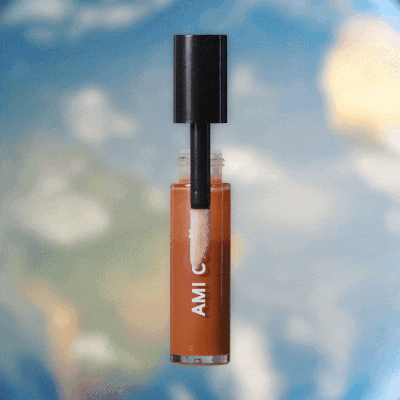 If there were one beauty product to launch this year that quickly became a cult favorite, it would without a doubt be Ami Colé's Lip Treatment Oil. Recently dubbed the Telfar bag of lip gloss, this tube of shiny goodness has a fan club of its own. The three-in-one product isn't just lip gloss, though; it's a conditioning lip-oil–to–gloss treatment that leaves lips glazed like a Krispy Kreme doughnut. It's also hydrating, with ingredients like hyaluronic acid and baobab-seed extract.
Finding a nude lip product can be challenging for darker skin tones, but the Ami Colé brand was created with melanin-rich skin in mind. What makes this treatment so unique is that it appears to be a deep-brown shade in the tube, but it camouflages its way onto lips for a natural, glossy nude, one that gives lips just a hint of color while seamlessly blending into your natural lip shade.
The nourishing gloss isn't tacky or sticky, nor does it drip off if you apply too much. Instead, it just adds a more glasslike look to the lips. But there's no need to overapply because one to two swipes across your lips leaves you more than set for a few hours. This gloss can be worn to the gym, to run errands, or for a night out. Pairing it with a liner in a deep-brown or chestnut hue is just the icing on the cake. Watch it melt right into your lips.
Editor's note: The Lip Treatment Oil is now sold-out at the above retailers, but it's still available in our Beauty Edit Box.