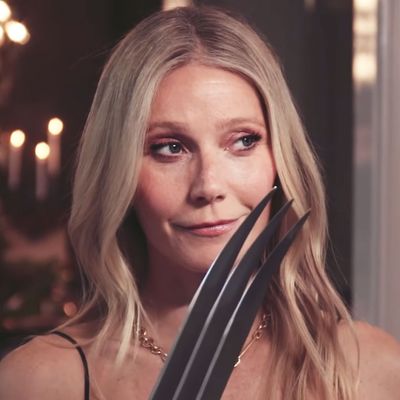 If there is one thing Gwyneth Paltrow is good at, it's thinking of really unique, unexpected, luxurious gifts. This is the woman who once sent Demi Lovato the scent of their orgasm in a votive. This year's Goop gift guide includes designer strawberries, a luxury garden hose, and a $10K Chanel sled.
This year, Gwenyth is also sharing her recommendations for what to get the various celebrities in your life. In a holiday etiquette video posted to the Goop Instagram, Paltrow reveals her picks. Adele gets "DTF pills" which according to Goop are a supplement to "support women's sexual desire, arousal, and mood" (and hopefully work better than some of their other attempts at sexual wellness). Stephen Colbert gets a This Smells Like My Orgasm Candle, which, honestly, seems not very original at this point. Kim Kardashian and Pete Davidson get a three-pronged BDSM toy that resembles a garden rake (and maybe an invitation to appear on the next season of Goop's sex show?)
As for Taylor Swift, Goop appears to consider giving her a red cashmere scarf — touche — but ultimately settles on a vibrator. So, I guess, there you have it. For those people on your list who are just impossible to buy gifts for — have you considered getting them a dildo?