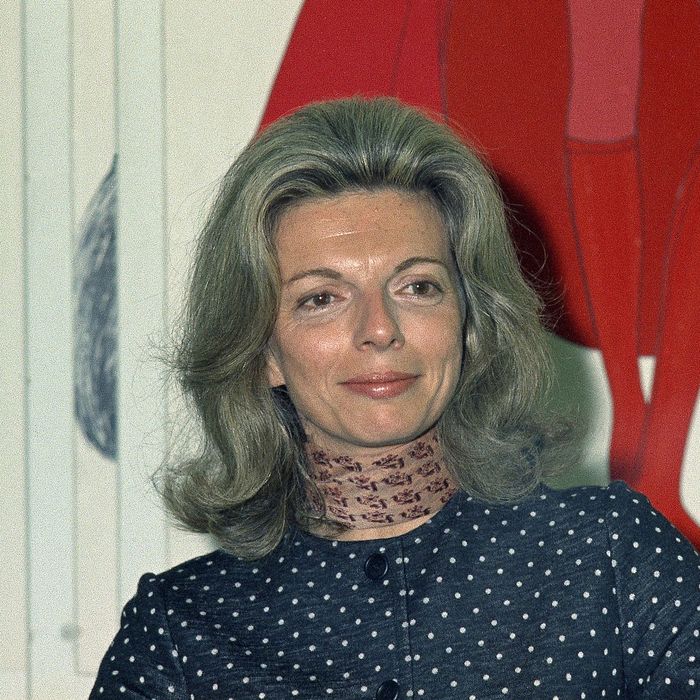 Photo: Marty Lederhandler/AP/Shutterstock
Grace Mirabella, the former Vogue editor-in-chief, has died at 92, the New York Times reports.
Mirabella began her Vogue career in 1951 as a merchandising assistant. Within three years, she worked her way onto the editorial side. She left to serve as the head of publicity at Simonetta, before eventually returning to Vogue. In the '60s, she ascended to associate editor-in-chief under Diana Vreeland.
Unlike Vreeland, who was known for her theatrical, avant-garde style, Mirabella embraced the sparing and sensible. In 1971, Condé Nast unexpectedly fired Vreeland, and Mirabella was appointed as her successor. According to Vogue, Mirabella was known among peers like former fashion editor Jade Hobson as having a "reader-focused" approach, as well as a businesswoman-like affect, and she wanted to turn Vogue into a magazine for working women. Though she sometimes took issue with her reputation as a fashion pragmatist, she nevertheless appreciated the power of practical outfits. She appreciated uniforms, minimalism, and the natural; she envisioned personal style as not having to reinvent yourself day after day.
Mirabella made it her mission to showcase real women. "I give Vogue over to women who were journalists, writers, actresses, artists, playwrights, businesswomen," she wrote, in her memoir In and Out of Vogue. 
In the '80s, the tides turned against Mirabella: Theatrical fashions made a comeback, and rival publications, namely American Elle, cropped up. In 1988, Condé Nast fired Mirabella without warning, and hired Anna Wintour in her place. In 1989, Mirabella partnered with Rupert Murdoch to start her own fashion magazine, Mirabella, geared toward women over 40. The magazine was financially unsuccessful, and went defunct in 2000.
Mirabella's death, legacy, and her contribution to women's fashion resound throughout the fashion world. "Grace guided Vogue through a momentous time in American history — emancipation, sexual freedom, and vital and hard-won rights for women — and she made that time come alive on the magazine's pages," said Anna Wintour, in a statement regarding Mirabella's passing. "She eschewed fantasy and escapism in favor of a style that was chicly minimalist and which spoke clearly and directly to the newly liberated ways we wanted to live."
In a New York Times interview for Mirabella's obituary, journalist Samir Husni said of Mirabella: "She wore Prada without the devil."