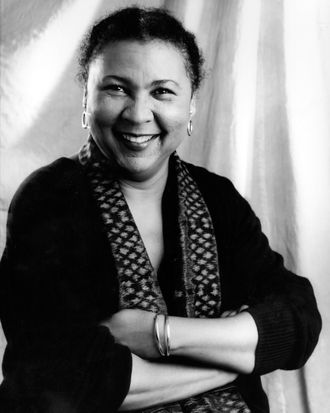 Photo: Anthony Barboza/Getty Images
On Wednesday morning, feminist scholar bell hooks died at her Kentucky home, surrounded by friends and family. She was 69.
Born Gloria Jean Watkins in Hopkinsville, Kentucky, bell hooks published her first work of poetry in 1978. In the following years, she published over 40 books under her pen name, which is based on the name of her great-grandmother Bell Blair Hooks. Her first major work, Ain't I a Woman? (1981), presented themes she returned to throughout her career, which largely revolved around examining how race, gender, and capitalism work in tandem to perpetuate oppression.
As an author, poet, critic, feminist scholar, professor, and social activist, bell hooks first articulated many of the ideas that we now think of as intersectional feminism. In 2004, she returned to Kentucky to teach at Berea College, the first coed and racially integrated college in the southern U.S., which does not charge tuition to any admitted students. She founded the bell hooks Institute there in 2014, which houses her art, personal items, and books.
hooks's groundbreaking theory left a major legacy on the feminist movement and many women who read her work. Writer Min Jin Lee, who took hooks's class at Yale in 1987, wrote that hooks's writing "broke ground by recognizing that a woman's race, political history, social position and economic worth to her society are just some of the factors, which comprise her value, but none of these can ever be left out in considering the totality of her life and her freedom," adding that reading her work felt "as if someone had opened the door, the windows, and raised the roof in my mind."
Per a statement from hooks's family, a ceremony to honor her life will be announced at a later date.