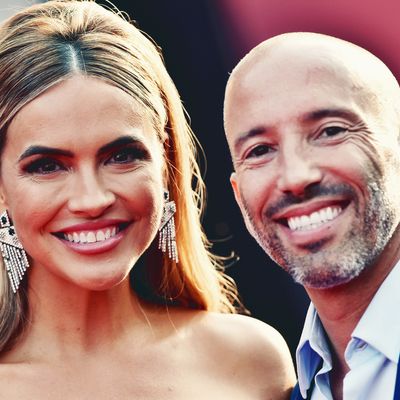 Photo: Axelle/Bauer-Griffin/FilmMagic
In news that probably won't surprise any Selling Sunset fans, Chrishell Stause and Jason Oppenheim have officially split, People magazine reports. The announcement comes approximately five months after Stause confirmed their romance in an Instagram post captioned "The JLo effect," a pronouncement that still confuses me.
As you may recall, Oppenheim — one of the identical twins who owns the Oppenheim Group, the real estate company the show follows — had a "pretty much nonexistent" dating life before Stause. But back in July, he told Us Weekly that the two had developed an "amazing relationship." And just four weeks ago, Stause appeared on an interview with Extra TV, where she said of her and Jason's relationship, "It is love." So what happened? Both parties have posted statements on Instagram suggesting that, while they love and respect each other, their ideas on wanting a family didn't align. "Men have the luxury of time that women don't and that's just the way it goes," Stause wrote in her post, adding, "I very much hope to one day have a family and decisions I make at this point are with that goal in mind."
While the Stause-Oppenheim romance may be over in real life, it has yet to play out on the show. It was teased at the end of season four, but so far, we've only seen their relationship unfold in social-media slivers: photos of the two making out in front of the Trevi Fountain, a photo of Stause standing awkwardly amidst a bunch of potted roses Oppenheim gave her, and another photo of the pair volunteering at a homeless kitchen on Thanksgiving.
Previously, Oppenheim dated Selling Sunset co-star and realty agent Mary Fitzgerald, with whom he shares two dogs (he writes poetry for them). In season four, Stause — whose extremely public divorce from Justin Hartley has been a focal point of the show — was just getting back into the dating world.
Earlier this month, at the People's Choice Awards, Laverne Cox told Stause that fans were excited to see how her relationship with Oppenheim played out. "Girl, what had happened, how did this romance — are we going to get clear on how you guys came together?" Cox asked. "Are you madly in love?"
Stause responded that she loved Jason very much. "Things don't have to go perfect, 'cause I feel like that love and respect will always be there, so I don't know what will happen and I just feel like that's the scariness of being on a reality show, but he's my best friend and he'll always be that no matter what," she added.
In hindsight, that sure feels like a spoiler alert. Still, I'm looking forward to watching the brief romance play out onscreen, if only to have a plotline that doesn't involve everyone beefing with Christine. Cue the bad bitch, AI-generated breakup music.