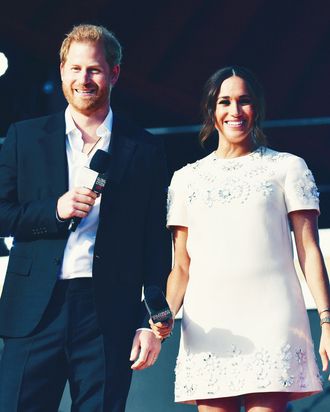 Photo: Angela Weiss/AFP via Getty Images
Sometimes Prince Harry and Meghan Markle take a photo so spectacularly blissful, you have to wonder what recent boundary they've drawn between themselves and the royal family. Such is the case with their 2021 holiday card, which was released Thursday and features a photo of the full family including 2-year-old Archie and their new baby, Lilibet Diana ("Lili" for short, of course). It's the first time Lili has been pictured publicly, which might be stressful for a different family, but God, do these four look relaxed.
What is it that's so carefree about this photo? Is it because everyone is wearing denim and/or chambray? Maybe it's because Harry and a very redheaded Archie are barefoot. Is that … a slice of bare knee poking through a rip in Harry's jeans? Something tells me this is not in accordance with the royal dressing protocol.
With the card, Meghan and Harry included a nice little message letting everyone know they had a baby (in case, you know, you didn't read the news) and laying out a list of charities they've donated to on behalf of the card's recipients. "Archie made us a 'Mama' and a 'Papa,'" they wrote, "and Lili made us a family." :')
What sort of carefree, denim-y plans do Meghan and Harry have in store for the holidays? Well, they're certainly not going to the traditional royal gathering at Sandringham because (1) they were never planning to anyway, (2) the event was called off because of the COVID-19 surge in England, and (3) historically, the entire Sandringham experience sounds frankly miserable. Here are some normal things they could do during the holidays, which I think they'd really enjoy:
Or, you know, they could just go to the supermarket. Happy holidays, Sussexes!