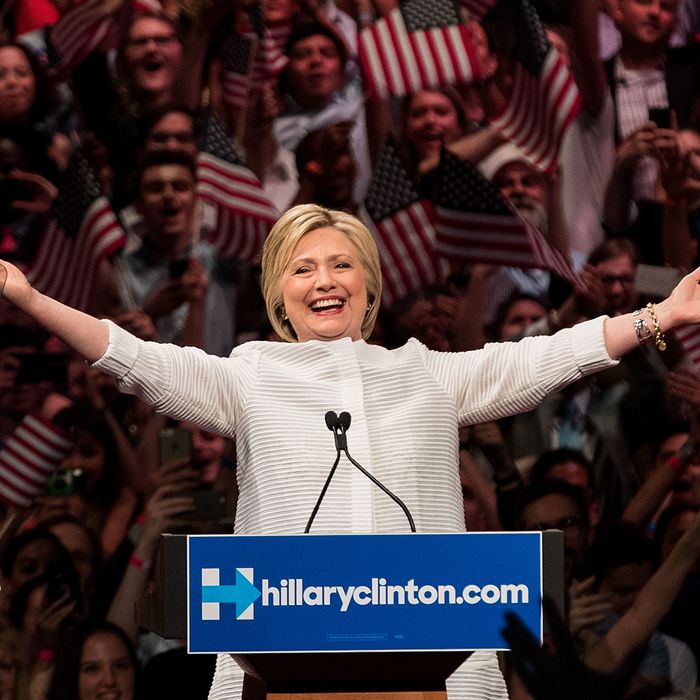 Photo: Drew Angerer/Getty Images
If presidential elections in the United States were won and lost based on the popular vote, this is the speech we would have heard on November 8, 2016. As part of her official Masterclass, Hillary Clinton is sharing her 2016 victory speech for the first time. And in a preview clip, she tears up reading a passage about her mother.
In the viral clip, Clinton dedicates her speech to her mother, Dorothy Howell Rodham, who passed away in 2011, saying she wishes she could go back in time and tell her mother that of all she would accomplish. "I think about my mother every day," she says in the clip, describing her mother's hard life as a young girl. "I dream of going up to her, and sitting down next to her, taking her into my arms, and saying, 'Look at me. Listen to me. You will survive. You will have a good family of your own. And three children. And as hard as it might be to imagine, your daughter will grow up and become the president of the United States.'"
This snippet shows the end of what would have been a historic speech, and though it might be the most emotional Clinton gets in the episode, it's not the most depressing part of it. That belongs to the section, published by TODAY, that acknowledges the history Clinton would have made as the U.S.'s first female president. "I've met women who were born before women had the right to vote. They've been waiting a hundred years for tonight," her speech reads, per TODAY. "I've met little boys and girls who didn't understand why a woman has never been president before. Now they know, and the world knows, that in America, every boy and every girl can grow up to be whatever they dream — even president of the United States."
Speaking in a separate interview with Today's Willie Geist, Clinton said she decided to share her speech because she "wanted to be as helpful as I could to the viewers and to the process of being in a Masterclass," and not because she wanted us to relive the trauma of 2016 all over again. But I can't help but return to the speech she actually did give in 2016, the concession speech. "To all the little girls who are watching this," she said at the time, "Never doubt that you are valuable and powerful and deserving of every chance and opportunity in the world to pursue and achieve your own dreams."
Clinton's Masterclass on "The Power of Resilience" is starting on December 9 and will kick off an entire "White House" series of Masterclasses, including one from President Bill Clinton on "Leadership" and one from President George W. Bush on "principled decision-making" (LOL).