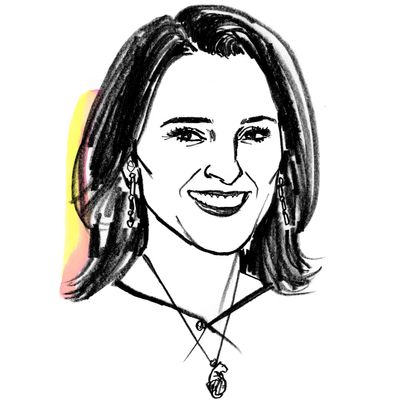 Illustration: Lauren Tamaki
Mercedes Abramo is the president and CEO of Cartier North America, the first female and American to hold the role in over 30 years. She began her career at Cartier as the director of the flagship Fifth Avenue mansion in 2008. Abramo has more than 20 years of luxury retail and hospitality experience, having previously worked at Tiffany & Co. on Fifth Avenue, Ritz Carlton Hotels, and Loews Miami Beach. She is also on the advisory board of the Luxury Education Foundation, a public not-for-profit organization that focuses on educational programs for students in design and business. Starting from now through May 22, 2022, the Fondation Cartier pour l'art contemporain and the Peabody Essex Museum are presenting The Great Animal Orchestra, a rich audio-visual experience composed of the wild soundscapes and more than 5,000 hours of recordings in natural environments, and 15,000-plus terrestrial and marine species. Created in collaboration with bioacoustician Bernie Krause and United Visual Artists, the exhibit celebrates the diversity and beauty of earth and warns of the looming threat of climate change. 
On her morning routine: 
I wake up around 5:30 or 6 a.m. I've always been an early riser. The first thing I do is get a cup of coffee. I have to train myself not to look at my phone first — for at least 30 minutes. We also adopted a puppy during the pandemic, so I try to give him a little attention as well.
In the first hour or two, I'm checking emails, since our company's headquarters are in Geneva and Paris. I catch up on local and global news and then hopefully, work out as well. I get to work between 8 to 8:30 a.m. Because it is generally before everyone else arrives, I like to keep that first hour free for myself.
On prioritizing:  
I have a wonderful executive assistant who helps me. We do color-coding for meeting categories and plan out blocks of time that are "free work time." We have a lot of meetings and client events that can get onto my calendar very quickly, so having free work time is important. My assistant is the one making sure that what is on my calendar is actually in line with my priorities, and making sure that I have blocks of time for "free thinking." Ideally, I like to have at least two hours a day for that.
I am a list-maker. It started as really a paper list person and calendar person, and now I do it on Outlook or Notes. I make two lists: personal and professional. I have probably three to four categories on the professional-list side — new ideas, business thoughts I have that I keep a running list of, and reminders. There are also things I want to see and do that are related to the business. Say a competitor has opened an exhibition or a new pop-up, or there is a museum I want to see, or arts and culture events in New York.
On her journey to becoming the first female president and CEO of Cartier North America:
My father and mother met working at Lord and Taylor, so you could say I have retail in my blood. I started my career in luxury hospitality, through a management training program with Ritz-Carlton hotels. That was a great first industry to learn about service and exceeding client expectations. The hotel industry also gives significant responsibility to young leaders, so I learned to problem solve very early in my career. When my husband was transferred abroad for a three-year work assignment, I decided to get my MBA in luxury brand management at ESSEC Business School in Paris. When we returned to New York, I joined another luxury maison, and then eventually Cartier called to recruit me.
On her favorite parts of the job: 
It's something we started during the pandemic called "Mercedes Live," which is an internal interview program on Zoom. It was originally suggested as a way for everyone to stay connected across the U.S. and Canada. We kept going even after the stores reopened because people enjoyed it so much. We conduct a live interview with someone in our network. It could be an employee who is talking about a specific project they're working on, or recapping an event. We just had musician and ecologist Bernie Krause. Krause is someone the Fondation Cartier has sponsored, and The Great Animal Orchestra is the Fondation's first exhibition on U.S. soil in 20 years. He started giving us a lot of wonderful insights on climate change and ecology. In other cases, we've had a few of the celebrity ambassadors that we use in our advertising to come talk to us, and that's been a lot of fun as well.
On self-doubt: 
It's important to stop worrying about what other people are thinking and focus on the unique qualities you bring to the job. For example, I bring qualities to the role that previous people haven't brought, such as my experience having worked in retail in the boutique. I am a firm believer that a leader needs to project confidence, but it's a balance of confidence and humility. For example, you want people to feel that they can trust you and you're going to lead them in the right direction. You also have to be humble enough to talk through when you don't have the answers and communicate that you're working hard to get them or that you want to hear other people's opinions to make decisions. I think a big evolution in my leadership is balancing when to deploy different parts of different skills.
On confidence:
I believe in reminding yourself of what you've accomplished. When you run into a difficult situation, I've found it useful to really break down the core of whatever the issue is, and say, Okay, you've been through challenge X. Here's how you now analyze it. Here's what works, here's what didn't. What from those experiences can you apply to the current situation? I try to use that frequently.
It's mostly mental, but I do keep reminders of things. It can be pictures of previous events or notes I've received from different people or emails. In the beginning, I didn't really display these things because I felt like it could come off as being overconfident. But I find that having them physically displayed is also good as a conversation starter. For example, I have a sterling silver oil can made by Cartier. We don't make these objects anymore. But my dad sent it to me when I first got the promotion. It says "High Test" on it. And for me, it's a reminder to keep my own "tank full" in order to be able to do the job that I'm doing. I can't motivate and lead 900 people if I am also not taking care of myself.