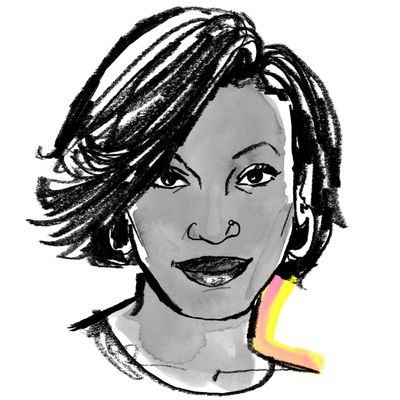 Illustration: Lauren Tamaki
Refinery29 global editor-in-chief Simone Oliver is immaculately organized. She's extremely calendar- and list-oriented, and her planning skills have kept her sane while navigating a career oscillating between the tech and media industries. A Howard graduate, Oliver started her career at the New York Times, where she stayed for 13 years before becoming digital director at Allure. There, she led the magazine's digital reinvention at a time when publications were transitioning away from print. From there, she made a pivot into the tech world, working on the Global Media Partnerships team at Facebook. Returning to media in September 2020, Oliver took the reins at Refinery29 amid a pandemic and following allegations of a "toxic" company culture. She's met the daunting challenge with an empathetic leadership style and a lot of enthusiasm. Oliver spoke to the Cut about balancing being a mother and an executive, the importance of protecting your schedule, and going on walks for inexpensive inspiration. She lives in Brooklyn with her husband and two children. Here, how she gets it done.
On her morning routine:
Most mornings, I wake up around 6:15 or 6:30 a.m. I take a few minutes and just stare at the ceiling or out the window. I try my best not to send or respond to emails before 8 a.m. unless I'm communicating with Europe or Australia. I stretch my lower back because I have lower-back pain after having two kids and two C-sections. Next, I open Notes on my phone. I have a "today" file where I keep track of pretty much everything I didn't get done the day before. I look at the weather app. I look at the calendar app. And like a lot of other people, I look at Instagram. Instagram is another inbox for me, so I check my DMs, but I try not to spend too much time scrolling because I will easily get sucked in. That all takes less than half an hour. By then, one of my kids is already up, and so it's full speed ahead corralling them to get ready for their day, changing a diaper, chasing the kids so I can change the diaper while trying to get some water down. Sometimes I have calls with Europe, so there are times when I have to distract them while I'm trying to take a call in secret or with minimal interruption, but I try to avoid that if I can.
On work-life balance:
I try to just let people know, "It's okay if you have to take a break." And I understand that a lot of us are not built to take breaks. That's the majority of our team — they have to constantly be told, "It's okay. You're not a slacker if you take a day for yourself," and our industry doesn't tell us that. So I've tried to lead by example. If I say I'm going on vacation, I'm not going to be emailing you at 12 a.m. about the headline of your story. That doesn't send the right message.
On empathetic leadership:
I share as much as I can with my team, asking, "How are you feeling? What are your ideas?" And that one-to-one has been good for team-building. We've done a lot of things that I'm proud of this year. I'm learning about the team, asking them, "How are you doing, for real?" You know? "I heard you have a cat!" Just like, What's going on? "I heard you're moving, how did that go? That's stressful, but you also launched a huge project while you were moving, congratulations!" Just acknowledging people and learning more about them and what makes them tick and what they want out of their career on my team helps me understand their motivations better, and it helps me look inward as a leader. Most of us just want to feel seen and supported.
On making time:
It's not a new thing, but it's something I learned along the way: Always protect your calendar. That can mean different things. I have my work calendar, a joint calendar with my husband, and then we have one for my oldest daughter. We overlap those three calendars and actively edit them. I carve out time to play with my kids because I see time passing by really fast. I'm like, I'm not just gonna stand over you with my laptop on the kitchen counter while you play with blocks by my feet. I'm going to build with you and play with the blocks on the rug. And that is something I have to carve out time to do. My evenings are more calendar-planning, food preparation, emails in between flipping a quesadilla, two more emails, making sure the quesadilla doesn't burn 'cause I'll hear about it from my 8-year-old.
On working in tech versus media: 
Storytelling is storytelling no matter where you are. I came up through the ranks when digital was really changing the media industry. I was very burnt out by the idea of chasing clicks by the time I shifted gears to tech. I was able to draw on so much that I had learned along the way as a journalist, and then I went back to media. I told one of my friends recently, I felt like all the jobs that I've had prior have trained me for the job that I'm in now. Not a day goes by that I don't think about something that I've done previously that has prepared me for either the way I think or the way I approach different scenarios. I'm also feeling growth and feeling challenged every single day. So whether it's company culture and how to manage, whether it's communication styles, whether it's feedback loops, whether it's your own motivation and accountability, all of that has not really changed from industry to industry, but the way the media industry versus the tech industry handles some of those things, there are pros and cons, and I've taken the pros and applied it to where I am now.
On finding inspiration:
As much as I am a digital gal, I love me a good, tactile fashion magazine. There's something about still photography. I'm also inspired by humans walking down the street, to be honest. I'll always find that thing, like, Wow, the way that guy's gait is … there's something about that … and my mind starts wandering, and I'm looking at his shoes, and I'm looking at his stance, and my mind will go, and I can write a short fiction story on that. Folding clothes is also a new meditation for me because it slows me down. It allows me to be present, and it also allows my mind to just wander. I'm not checking my email. I'm not looking at my calendar. I'm not editing a dek. I'm not editing a story. My mind is wandering, and then halfway through a laundry batch, I'm writing my ideas and thoughts down in my lists.
On her many lists:
I have my "today" list, which is pinned to the top of my Notes app. Every weekend, I try to reach out to someone that I haven't talked to in a while, so I maintain a list of "people that I haven't talked to in a while." I'm turning 40 this month, so I have "40th birthday ideas." I have "the kids' intellectual growth" list. I have all the things that I want to bring up during my one-on-one with my boss. I have "2022 travel." My "week off" list — this is for the holidays — says "clean living-room rug." That's the first thing on there, so you can see how exciting my life is. I like to keep a lot of quotes and maxims that I revisit. Sometimes my husband texts me his quotes that he's reading, Zen proverbs and intellectuals from over the centuries, so I read that, too, when I get really stressed out. I have hundreds of notes.
On self-care:
I started this thing over the summer called "Maintenance Fridays." I try to avoid any meetings after 1 p.m. on Friday, and every other week or so, I have a personal-care appointment. It could be a manicure, or it could be my eyebrows, or I'm finally going to the dentist. When I'm done with that appointment, I walk around Manhattan. I clear my head. I'm still taking calls, but I'm walking while I'm doing it. I'm still checking emails. Yes, I do walk and answer emails. I get very inspired by looking at people, passing new businesses that didn't used to be there, crazy moments in the city when you're just like, Woah, what's happening across the street? Then I make it home by the time I have to relieve my babysitter, and my husband picks up my older one from after school, and I'm like, I had a whole day of not only being productive but also being inspired, and I feel really, holistically good.
This interview has been edited and condensed for clarity.