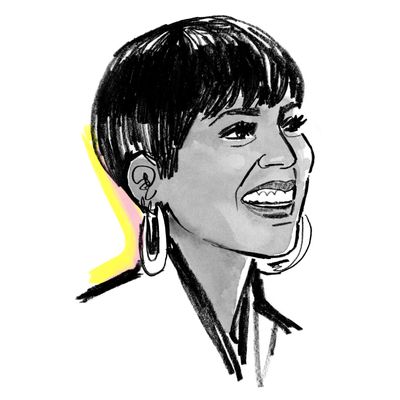 Illustration: Lauren Tamaki
Tamron Hall is an author, TV host, Emmy Award–winning journalist, executive producer, mother, and wife. Born and raised in Dallas, Hall started her career in broadcasting in the early '90s as a general-assignment reporter for KBTX in Bryan, Texas. She went on to host shows for MSNBC and NBC including NewsNation With Tamron Hall, Deadline: Crime With Tamron Hall, and the Today show. Since September 2019, she has been the host of her own daytime talk show on ABC, Tamron Hall, and this fall, she released her first mystery novel, As the Wicked Watch: The First Jordan Manning Novel. She lives in New York City with her husband, music executive and film producer Steve Greener, and their son, Moses. Here's how she gets it done.
On her morning routine: 
I usually start my morning around 5:30 a.m. The very first thing I do is pray, and then I look at my son's baby camera. I'm a bath-at-night, shower-in-the-morning person. I don't feel ready until I take my morning shower, where I also kind of meditate and go through my day. I'm a Virgo, so I'm a planner. I have the day strategized and analyzed before I start it. Beauty-wise, I mask every morning; it's a ritual I started doing in my late 20s after the owner of this beautiful day spa in Chicago's Hyde Park called Bettye O told me to find a way to mask as many mornings as possible. I like to make my coffee because it's a pleasant way for me to start a day that I know is going to be frantic. I try to load my mornings with as much calm and ease as possible because the day ahead is usually very intense and requires all cylinders to be firing at all times, so I go out of my way to have a really organized morning, down to what I wear out of the door. Every day is like the first day of school: I have my clothes laid out to wear, and I'm ready to go. Usually, I leave around 6:15 a.m. to head to the studio.
On structure and always being prepared: 
I give credit to being organized. When I see an email, my goal is to respond immediately. As my husband says, I'm the queen of the to-do list. I write down goals I want to attack — even things like "order trash bags on Amazon." I try to organize all of those things both in my personal life and my professional life. One of the things I tell people I mentor is there will always be an unknown variable. There will always be something you don't know is around the corner lurking and waiting for you. Many times, these things aren't joyful moments; they are often something that may be an adversity or difficult thing. If you have other parts of your life clean, clear, and organized when the unknown variable comes, you're prepared for it.
On her debut novel, As the Wicked Watch:
It's a thriller, and it was inspired by my years of reporting, but particularly two cases: one that I covered in Texas and one that I covered in Chicago. They both involve two 11-year-old girls who were missing and later found dead. When I was a reporter covering those cases, I felt like I needed to follow the mantra of "Don't get emotional about the story." However, both of those cases had an impact on me emotionally days, weeks, years later. During the pandemic, I started to write this novel and created this character, Jordan Manning, who is inspired by me and other reporters I've worked with over the years, and she starts to follow this case after receiving a hotline call about a missing girl in Chicago.
On her journey from news anchor to weekly talk-show host: 
I worked in local news in my hometown, Dallas, for four years and then ten in Chicago, where I spent so many formative years of my life as a reporter. From Chicago, I went from being a reporter to an anchor of a four-hour morning show. That then led to me being recruited to take a position at MSNBC, NBC, and start my journey on a national scale in 2007. In 2019, I debuted my talk show, Tamron Hall, which is now in its third season.
On the best career advice she has received: 
Bet on yourself. Obviously, you always want to be collaborative and you always want to have a team of people around you who will help you grow both personally and professionally. But so often, we lean away from ourselves and become fearful of betting on our instinct and our gut. As I've applied this over the years, I've seen things that I've wanted to achieve come true. For example, the book: People had approached me about doing a memoir or beauty book, which I'm very interested in doing someday, but creating this novel was a challenge and a step out of my comfort zone and the zone that people expected of me, to be honest.
On self-care: 
Self-care for me includes cooking. I didn't always cook. I didn't really start until after my father passed away; he was a phenomenal cook. Part of my grief process after the loss of my dad was to take on something he greatly loved doing for our family. I started taking a few cooking classes, and then someone recommended watching Barefoot Contessa. About a year or so ago, I embraced cooking; it's an opportunity to really just focus on the meal and escape. I make a delicious jalapeño honey chicken thigh.
On parenting and work-life balance: 
Motherhood has allowed me to put in boundaries that I did not have early in my career. That doesn't mean I'm not available to my team 24/7; I am. It is an opportunity to put a divider between the attention that I need to give my son and that he deserves as well as the attention my show deserves. Having a show of your own provides an opportunity for your team to see you as a leader with compassion. What I mean by that is I afford my team the same boundaries. I don't call them after a certain hour. If there's an email that I'm sending out because it's popped into my mind, I'll be the first to say, "You don't have to reply to this now."