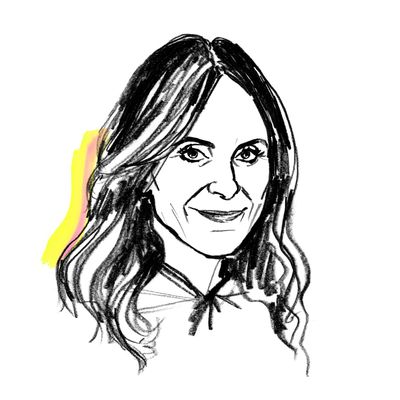 Illustration: Lauren Tamaki
Alison Loehnis is a big believer in the fact that you don't need to have a linear résumé, and her journey reflects that. Having studied art history in college, the Net-a-Porter president thought she was going to work in the art world. But during the summers in college, when everyone she knew was working in law firms or offices, she worked retail in a Ralph Lauren store and loved it. For her, fashion meant freedom, but it took her several years into her career to realize it would actually be something she'd pursue. Her primary goal throughout her career was to find a balance between business and creativity, which led her to working in advertising, in the magazine business, for Disney, and for LVMH. Then, when she was on maternity leave and considering returning to work, she got a call from a headhunter who asked if she'd be interested in talking to Net-a-Porter. That was more than 14 years ago, and the rest is history. In that time, she led the launches of the Outnet in 2009 and Mr. Porter in 2011 as well as the merger with YOOX in 2015 and a global expansion of the business into new regional hubs in the United States, Asia, and the Middle East. She lives in London with her husband and two teenage children. This is how she gets it done.
On her morning routine:
I'm not naturally an early riser, but I usually get up at six largely so that I have a pocket of time before the house gets up when everything's a bit still. The first thing I look at is headlines from the Financial Times or the New York Times and a quick scan of emails and texts. I like to get ahead of the day and clear out my inbox and answer outstanding questions. Then, of course, I have a look at Instagram. As long as it's not super-dark in the morning, I'll go for a run or do some exercise, because that sets me up really nicely for the day. But no matter how early I wake up, I find that I'm somehow racing to get out the door and into the office. Luckily my commute is mercifully short, ten minutes. I drive to work, and I still get giddy when I say that because I grew up in New York City.
On a typical workday:
One of the many reasons why I love what I do is that there really is not a typical day. I always spend a lot of time with my team, but how that time is spent varies. It could be talking about strategy for next year, meeting with our brand partners, looking at creative campaigns, discussing special capsules and collections, determining whether we're going to pick up a designer, budgets. One thing I make sure to do every single day is walk around. We have a big open-plan office, and I really like to see the teams, especially now that people are getting back into some kind of rhythm. It's particularly exciting. I try desperately to get some fresh air, too.
On prioritizing:
I am a planner and a list-maker, so it's clear each day what needs to get done. But I know perfectly well that things don't go as planned, so I allow for things to not go according to schedule. It's important to be able to say no and to know what you're realistically not going to get to. If your to-do list is endless, you're just going to end up either not doing anything or doing things in a half-hearted way. What comes first for you? Be clear and unapologetic about that. You have to be disciplined, and that takes work and practice. I'm still a work in progress, though.
On what makes a great team:
A common goal with shared values and priorities, a good sense of humor, trust, communication skills, camaraderie. One of the things that struck me when I joined Net-a-Porter many moons ago was that people really treated each other like their work family. Of course, it's not your family, but it's just being with people you want to be around. In my experience, the most successful teams are the ones that really have fun together while doing the work, regardless of how onerous a particular task might be.
On holiday planning:
We start thinking about next year's Christmas shortly after this year's. It's a combination of head and heart, meaning we have quite a lot of data, so we know what tends to resonate and my buyers have the customer at the top of their minds. Each season brings with it a whole host of incredibly exciting products, which we make sure to balance across price points. There's certain categories that tend to perform much better at this time, like jewelry and watches — special things that people might be saving up for.
In terms of the campaigns, we like to shift gears each season because things can look a bit same-y across the holiday landscape in the industry. It should be fun and tempting. We're not suggesting it's going to change the world, but ultimately these are things that should bring someone joy.
On working remotely:
The people side of things is what I get so much energy from. Getting to work with really fantastic people and interacting with them is my favorite part of my job. My least-favorite part is when that goes away, speaking specifically about the pandemic. You lose that creative spark of idea generation not being together in person. Hybrid works incredibly well because frankly, there's also things I was never able to do particularly effectively in the office. If I really have to concentrate and write, for example, I need to be removed. Sometimes you need the quiet to process.
On tools for managing stress:
Lists! And humor and smiling. That isn't to say that things are funny all the time, but trying to keep a certain amount of levity around things where you can is super-important. Take moments to breathe and pause. Spending time off-duty with my family is my No. 1 unwinding tactic.
On staying focused in an ever-changing industry:
The constant is the customer. We are selling the most beautiful products in the world to a customer who deserves phenomenal service. We're here to bring a smile to somebody's face through fashion and style.
On winding down:
I go through a ritual of always changing [out of work clothes] when I get home. I always change when I get home, and then it's just about being together with my family and my dog, having dinner, chilling, hanging out, watching Netflix.