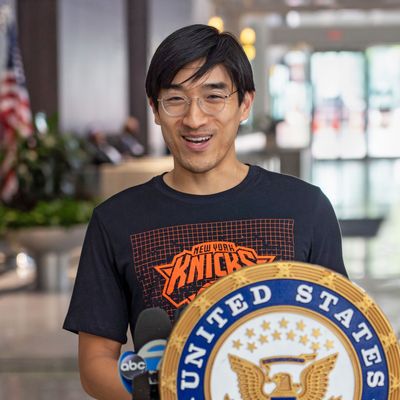 Huge Ma, a.k.a. @TurboVax, a.k.a. Vaccine Daddy.
Photo: Ron Adar/SOPA Images/Shutterstock
Maybe you are wondering: Since Huge Ma, New York City's "Vax Daddy," took his vaccine-finding operation off-line, what has he been up to? Running for state office, according to The City: Ma has filed a challenge to Assemblywoman Cathy Nolan, who has represented the Queens district where Ma grew up since 1984.
"I code for a living. I never imagined that I could have that sort of tangible impact on all these people's lives," Ma, 31, said. Regarding @TurboVax, the Twitter account that elevated him to local fame, he continued, "I only did what I thought was right and what was good for my neighbors." His desire to get into local politics, Ma added, "is an extension of that."
Before he started @TurboVax in January, Ma's primary job was Airbnb software engineer. He built the account, which crawled state and city vaccine sites to aggregate appointment information, after seeing how hard it was for his mom — a nurse — to schedule her shots. By early April, he had accrued 160,000 followers and helped countless people access vaccines; he also raised over $180,000 to help businesses impacted by the pandemic in Chinatown, and used the account as a platform to denounce anti-Asian racism as hate crimes surged last winter and spring. "I've never really been outspoken politically," he told the Cut at the time. "I've always felt this way and have acted accordingly, but I have never shared it publicly. But I almost felt like I didn't have a choice. I was speaking out in self-preservation. Many of us could feel that this was only going to get worse — that this harassment was going to turn into violence."
Once vaccination rates picked up, Ma pivoted @TurboVax to bike-lane advocacy, which will remain one of his key campaign issues. Others, per his Twitter, include "true climate action," "housing abundance," "universal health care," "free CUNY," referring to the City University of New York, and "good government tech." As a tech guy, he believes he can play an especially useful role there: "When we're thinking about the truly life-or-death services that the government provides," he told The City, "we should have the highest expectations" for that technology. Hell yeah, [Vax] Daddy.