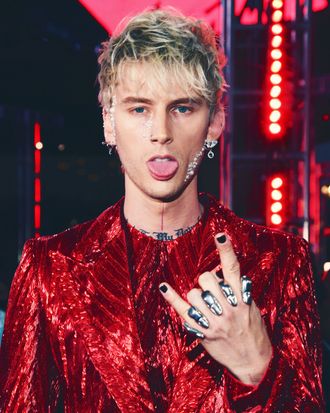 Photo: Kevin Mazur/MTV VMAs 2021/Getty Images
I hate to break it to you, but recently a few details have come to light about injuries sustained by Machine Gun Kelly, a.k.a. Colson Baker, a.k.a the man bold enough to say "I am weed" to Megan Fox. Thankfully, none of this man's injuries are serious, which means I feel comfortable confessing that I wish I could unhear everything about them. Baker revealed them on Late Night With Jimmy Fallon, where the two got around to discussing an instance involving Baker and his good friend Pete Davidson tumbling off the Saturday Night Live stage on live TV. Strap in; it only gets more distressing from here.
Apparently, Baker was actually trying to pick up Davidson, but was unable to, not because they are both the shape of asparagus spears but because he was weakened by a bruised coccyx. How did he bruise his coccyx? Well. I really want to make sure you're sitting down for this one. He was on his way to play a round of beer pong with Post Malone and was being filmed entering the room à la boxing-match introductions. Eager to give the cameras something good, Baker attempted sliding down a staircase bannister, which was all fun and games until he made contact with a "giant spike" at the bottom of the rail.
Baker does not elaborate on the exact details of his butt's collision with the spike, besides saying, "It rammed …" and then wisely trailing off. It's too late, though: The words "bruised," "coccyx," "beer pong," and "Post Malone" have already burned themselves permanently in my frontal lobe for future nightmare material. Anyway, let's … try to push through.
Now that the holy trinity of unkempt white men have all been featured in this story, let me throw in another character we all knew would make an entrance: Megan Fox. Yes, apparently, the spike-ramming incident happened on the exact same night that Baker also stabbed himself in the hand trying to look cool for Fox, who had just started dating him. The weapon responsible, a knife gifted to him by none other than Travis Barker, ended up buried in his hand after he tried to casually toss it in the air and catch it. He even showed Fallon the scar.
Other harrowing moments of this late-night segment include Baker saying Pete Davidson is "method" and quoting his doctor as saying, "You see this area here in your ass?" to show him where his coccyx was. There is also a replay of the stage-toppling incident, in case you missed it the first time. Enjoy!