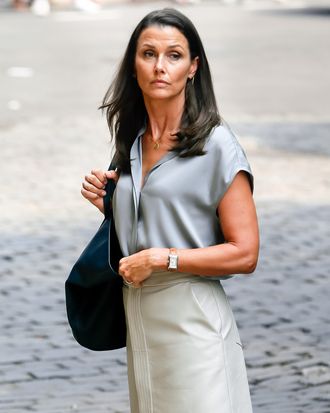 Photo: Steve Sands/NewYorkNewswire/Bauer-Griffin/Shutterstock
Do you remember Natasha from Sex and the City? God, poor Natasha. Big met her in Paris after the first time he and Carrie broke up, married her, and then cheated on her with Carrie, which Natasha discovered shortly before tripping down the stairs and breaking her tooth trying to chase Carrie out of her apartment.
As if that weren't brutal enough, Carrie proceeded to stalk this woman all over town in an attempt to assuage her own guilt by apologizing. There was nowhere in New York Natasha could eat without Carrie barreling in to remind her not only that her husband had cheated and her marriage was over but also that one tooth would never be the same color as the others, even after all that painful dental surgery.
But it turns out Natasha and her discolored tooth are okay now. I might even say they're thriving. (Spoilers ahead.) Bridget Moynahan reprised the role for episode three of And Just Like That …, which finds Carrie returning to her favorite hobby — stalking Natasha — after a reading of Big's will reveals that he mysteriously left his ex-wife $1 million. As Carrie does a deep dive on Natasha's Instagram (that is, before she gets blocked), we get a nice little update on what this woman has been up to.
According to Carrie's sleuthing, Natasha now has a fancy job at a fictional fashion house that Carrie calls a "higher-end Brunello Cucinelli." While Natasha's particular role there is unclear, if her office's floor-to-ceiling windows are any indication, it's important. She has two kids and what appears to be something like work-life balance, considering she drops them off at school herself and carries around a decidedly unchic Ziploc baggie of snacks for their low blood sugar.
On top of all that, Natasha seems like the only well-adjusted character in this entire show. Something tells me she's the only one who actually stuck with therapy — unlike Carrie, who quit once she stopped sleeping with the guy she met in the waiting room (played by Jon Bon Jovi, of course). Instead, it looks as if Carrie is still getting "therapy" from her friends, like Charlotte, who's apparently delusional enough to claim Natasha stole Big from Carrie because Carrie had dated him first.
Another sign of Natasha's enlightened emotional state: She couldn't care less why her estranged ex-husband left her $1 million after keeling off his prized Peloton. Whereas Carrie is obsessed with figuring out why Big would do such a thing (which honestly doesn't seem all that weird to me), Natasha is donating the sum to charity and moving the fuck on. The only thing plaguing her, really, is Carrie, who "accidentally" walks in on her in the bathroom of a matcha café.
Perhaps this is why the sickest burn Charlotte can come up with when she, Carrie, and Miranda are spying on Natasha is "She's wearing flats!" — an insult Miranda rightly points out is pathetic. Yes, Natasha is wearing flats. Because she is the only sensible character on this show, Natasha is wearing chic little sandals that let her breeze into her office with the ease and comfort of a woman who has learned to prioritize her own well-being. Meanwhile, Carrie spent this episode walking miles in Manhattan in the highest heels imaginable, which is frankly just masochism. At least Natasha won't need a footbath at the end of the day.
But really, can you imagine being so put together that the meanest thing someone can think to say is that you're wearing flats? That's closure.