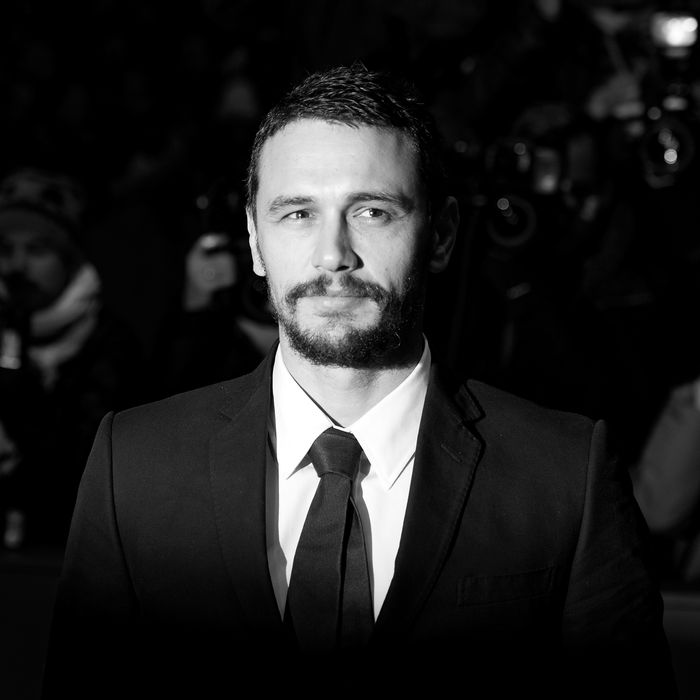 James Franco
Photo: Target Presse Agentur Gmbh/Getty Images
Buckle up. It appears actor James Franco has been "doing a lot of work" on himself — almost four years of it, in fact — since former students at his Studio 4 film school accused him of sexual misconduct and harassment. All of this work has led him to a few banner conclusions, as he explains in clips from this week's Jess Cagle Podcast: namely, that he is addicted to sex, the pursuit of which left him "completely blind to power dynamics" as well as people's feelings.
After all this internal excavation, is he willing to own up to the allegations the Los Angeles Times published in early 2018 that he had promised career opportunities in exchange for female students' participation in sex acts and explicit scenarios, specifically in his "Sex Scenes" class? That, to quote from a lawsuit two of those students brought in 2019 (and settled for $2.2 million in June), he had tried to "create a pipeline of young women who would be subjected to his personal and professional sexual exploitation"? Not quite. Despite its name, he claimed, "Sex Scenes" actually dealt with depictions of modern romance and dating. Still, he admitted, "Over the course of my teaching, I did sleep with students, and that was wrong" — if also, always, consensual. (Or so he insisted.) Franco continued:
But like I said, it's not why I started the school, and I wasn't the person that selected the people to be in the class. So it wasn't a 'master plan' on my part. But yes, there were certain instances where, you know what, I was in a consensual thing with a student, and I shouldn't have been.
As Cagle notes, many listeners may understand a relationship between an established actor-slash-producer and a person paying to learn from him to be inherently imbalanced. One party clearly holds the leverage in that scenario, skewing the concept of true consent. How was Franco not aware of that dynamic, Cagle asked? "At the time, I was not clearheaded, as I've said," Franco explained. "So I guess it just comes down to my criteria was like, If this is consensual, like, I think it's cool. We're all adults, so." Which sort of begs the question, but … perhaps the work is simply ongoing.
The women who accused Franco of misconduct, however, are not convinced. Following the release of the the actor's new interview, lawyers from Valli Kane & Vagnini LLP and Hadsell, Stormer Renick & Dai LLP representing the two students who recently settled a sexual misconduct lawsuit with the actor responded with a statement, questioning Franco's sincerity.
"In addition to being blind about power dynamics, Franco is completely insensitive to, and still apparently does not care about, the immense pain and suffering he put his victims through with this sham of an acting school," read the statement, provided to People on Thursday, December 23. "It is unbelievable that even after agreeing to a settlement he continues to downplay the survivors' experiences and ignore their pain, despite acknowledging he had no business starting such a school in the first place."
The statement continued, specifically responding to some of Franco's statements, "This wasn't a misunderstanding over a course name, it wasn't the result of him being overworked — it was, and is, despicable conduct. Nobody should confuse this interview with Franco taking accountability for his actions or expressing remorse over what happened." The lawyers concluded by calling the entire interview "a transparent ducking of the real issues released just before a major holiday in hopes that he wouldn't face any scrutiny over his response."