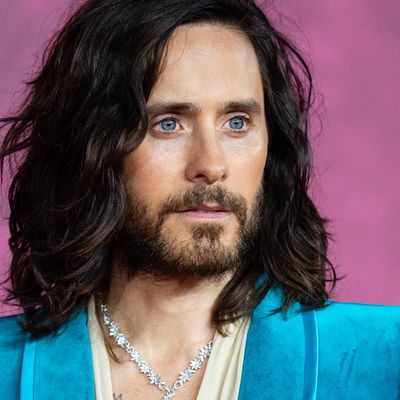 Jared Leto, alleged human man
Photo: Samir Hussein/WireImage via Getty Images
I have a fun little holiday riddle for you, and here is how it goes: Jared Leto just turned 50 years old but somehow looks like this. How is that possible? Unfortunately, I have no answers and welcome any theories.
On December 26, Leto posted a photo in honor of his birthday, though the image was much more a gift to all of us. In it, he is shirtless, his abs glistening with oil, sweat, tears of the young, or some combination of the three. His hair is wet or greasy but in a way that is somehow still sexy. He has blood dripping from the corner of his mouth. (This is likely because the photo was taken on set of the forthcoming vampire movie Morbius, but, truly, who's to say?) He's got a slice of rainbow layer cake that looks like it's about to slide off his plate. Needless to say, there is much to take in.
The most notable part of the picture is, of course, the fact that this man has looked almost exactly the same for the past 30-ish years? He has previously posted about his agelessness, saying, "It's amazing what a little human blood can do." Is it, Jared? Also, he did recently carry a bedazzled clutch shaped like an anatomical heart to the U.K. House of Gucci premiere. I have not ruled out the possibility that inside there was an actual human heart.
Or maybe this version of Jared that we see is merely a character, a costume he puts on each morning. How else would you explain the flawless skin, the impeccable facial hair? Perhaps the real Jared Leto is someone we've only caught glimpses of, an elusive figure we may never fully know.