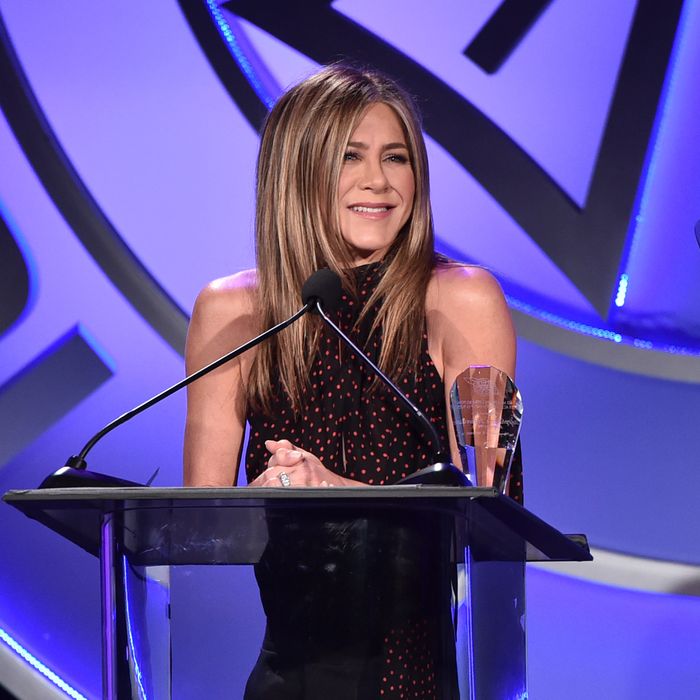 Photo: Alberto E. Rodriguez/Getty Images
Jennifer Aniston reveals a lot in a new profile with The Hollywood Reporter, like how she really felt being back on the Friends set for the HBO Max reunion — "It was all very jarring" — and how she feels about constantly being asked about whether or not she's going to have kids. But nothing is as fascinating to as Aniston's "Sunday Funday" dinner parties.
According to the profile, the actor usually spends her Sundays hanging out with Jason Bateman, Jimmy Kimmel, and their families at her house. She runs what her friend and business partner Kristen Hahn described as a "house restaurant" — which I think is just her cooking (but let's face it, thanks to that Friends money, it could be a private chef) — where she invites friends over regularly to enjoy her hospitality. And they do. "We show up an hour or two before we eat, and that time is spent talking and laughing and then we all sit around a big table and eat. Sometimes we'll watch something on TV after, or we'll start to disassemble. The first wave, with kids, leaves around nine; the second wave stays another hour or two," Bateman told THR.
According to Bateman, they all call Aniston "Carol" because she's "sort of like a den mother." He went on, describing her as "someone who's almost stuck in the 1940s in the way she organizes stuff because she just wants to make sure everybody is comfortable and has a good time." I'm not really remotely interested in hanging out with Bateman or Kimmel, but, just hearing how Aniston is as a hostess has me dying for an invite.
It's not just the dinner and company that sounds amazing, but the house too. As the article points out, Aniston's house features a stocked bar and zen garden, plus it includes a study (which used to be her ex Justin Theroux's office) that features a "Welcome to the babe cave" doormat. Aniston owns a doormat that any college sophomore taking intro to women's studies would want to buy, and I must respect it. I want to go to there.