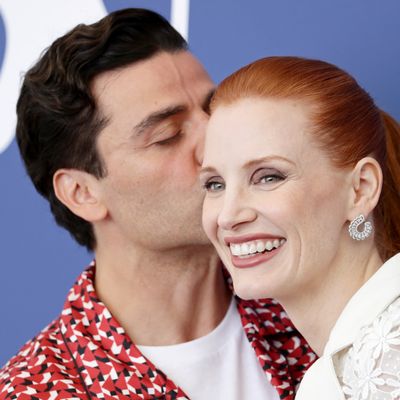 Photo: Vittorio Zunino Celotto/Getty Images
Jessica Chastain celebrated her Golden Globe nomination by doing a public service to us all: peer-pressuring fellow nominee Oscar Isaac to join TikTok and sharing some more delicious PDA. The Scenes from a Marriage co-stars earned matching noms for their work in the HBO drama on Monday, December 13, and as the only one who really uses social media, Chastain was obligated to post.
"Today Oscar Isaac and I were nominated for a Golden Globe and I am also nominating him to join TikTok," Chastain wrote, alongside a video from their Scenes from a Marriage press tour. In the video, which based on their outfits appears to have been taken at the Venice Film Festival in September, Chastain attempts to convince Isaac to take the TikTok plunge. "He needs a TikTok … I don't know why," Chastain says before Isaac jumps in, "Like I need a hole in my head." (Yes, Oscar, yes.) "No, because it's actually really funny," Chastain responds, putting her arm around him and resting her head on his shoulder in a position that, honestly, can't be all that comfortable when you're walking at a fast pace in heels.
Will this public shaming be enough to get him to join once and for all? Probably not. This is a man who has no Instagram or Twitter. (Though he does occasionally appear on the official Instagram page for his production company, Mad Gene Media.) As far as we know, Chastain's efforts remain unsuccessful. That is, unless Isaac has a secret TikTok we don't know about.
At least we'll always have the video of Oscar Isaac kissing Jessica Chastain's arm.