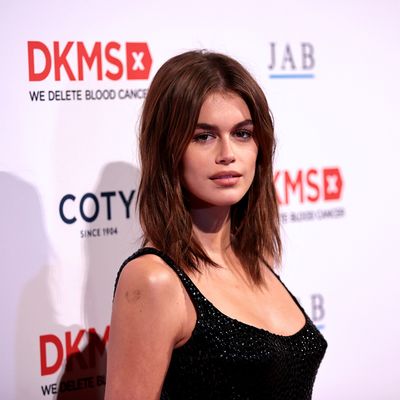 Photo: Dimitrios Kambouris/Getty Images for DKMS
From a potential yoga date to definitely dating in just a few days? The celebrity-dating rumor mill is working overtime for Kaia Gerber and Austin Butler. Just this weekend, we were hit with the news that Butler and Gerber had been spotted going to a yoga class together. Was it a sweaty date or just two Hollywood stars getting limber for awards season? Well, it looks like we finally have our answer. Because apparently, these two aren't just yoga buddies, they're full-on dating.
"Austin and Kaia are in fact dating. All of her friends think they are so adorable," a source told People on Wednesday, December 22. According to this "insider," Gerber's friends are very excited for the new pair. "It's a total step-up from her last relationship, and she knows it too," the source said. Ouch.
Sounds like Gerber's friends weren't huge fans of Jacob Elordi, Gerber's ex. That statement has big "sorry to this man" energy, and I must know more. Elordi and Gerber dated for a little over a year before splitting in November. And, if this source is to be trusted, it sounds like she's moved on just fine. As for the stupid-tall Euphoria star, he was recently spotted getting coffee with Olivia Jade, a.k.a. the most famous alumnus of the college-admissions scandal.
Neither Gerber nor Butler are strangers to high-profile relationships. Before Elordi, Gerber was reportedly tied to Saturday Night Live's Pete Davidson (currently dating Kim Kardashian), and Butler previously dated Vanessa Hudgens for nine years. Unfortunately for us, they've both had a history of being pretty private when it comes to their love lives, so I wouldn't expect any kind of grand relationship announcement anytime soon. So, here's to Gerber and her "step-up," confirmed or not.