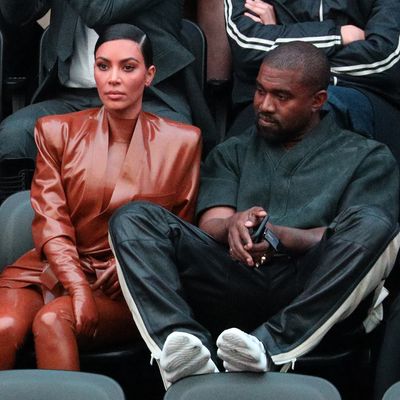 Photo: Pierre Suu/Getty Images
Kanye West (a.k.a. Ye) may have been MIA from the annual Kardashian Kristmas party, but given his newest purchase, I'm guessing he'll be there for the next big family photo shoot — uh, I mean event. Ten months after Kim Kardashian filed for divorce and one month after Ye publicly begged Kim to take him back, Kanye has reportedly purchased the house across the street from Kim's.
Kimye's divorce has yet to be finalized, as the duo are reportedly still hammering out some property issues, but it has already been reported that Kim paid Kanye for his share of their family home and will be living there with their four children. So Kanye has decided to relocate just across the street.
Instead of the cavernous, churchlike home he shared with Kim, Kanye will reportedly be living in a $4.5 million mansion. According to TMZ, the house has five bedrooms, spans 3,650 square feet, and comes complete with a swimming pool and a stable for horses. Those Friesian horses have got to sleep somewhere.
Contrary to whatever Twitter memes you might have seen, Kanye is reportedly not moving next door to continue his attempts to woo Kim but to work on co-parenting. Kim "wants Kanye to be a big part of the kids' lives," a source told Us Weekly earlier in December. He "will be invited to all holidays and family celebrations." And they aren't the only Hollywood parents taking this route. Adele reportedly lives across the street from her ex, Simon Konecki. If she can do it, so can Kimye.
Just think of Kanye West as the new Scott Disick: an ex who is hopelessly still in love with a Kardashian and also still part of the family. Kanye will be going on dates with Kourtney Kardashian and Travis Barker in no time.