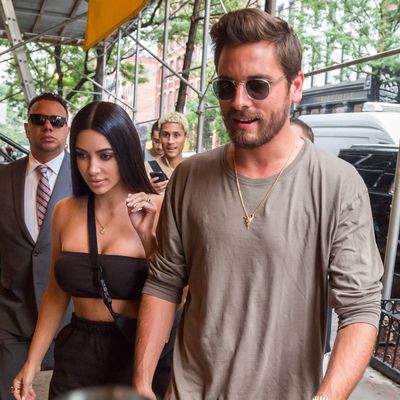 Photo: Alessio Botticelli/GC Images
Kim Kardashian West and Pete Davidson have officially hit their next relationship milestone: going on a date with Scott Disick. The "lord" of Kardashian boyfriends and father of Kourtney Kardashian's three children tagged along Saturday as Kim and Pete ditched a COVID-ridden Saturday Night Live for a Staten Island date night.
Davidson reportedly got the night off after SNL was forced to put on a hybrid show of pretaped sketches because of COVID-19, and instead of spending a rare Saturday night in, he decided to take his rumored girlfriend, Kardashian West, on another Staten Island date. The two reportedly went to the movies — E! News stated they saw House of Gucci, but People said it was Spider-Man: No Way Home; only they know the truth — and then had dinner at Angelina's Ristorante. And they did it all with Disick in tow.
Scott has been a staple of the Kardashian family for over a decade, ever since he started dating Kourtney and appearing on Keeping Up With the Kardashians. He and Kourtney eventually split in 2015, but ever since, he's been a regular player in the Kardashian family dating scene. As true fans know, Scott can sometimes be a better indicator of who the Kardashians are dating at any given moment than the women themselves. (In August 2020, he kinda sorta accidentally confirmed Khloe and Tristan Thompson were back on.)
Seeing Scott on this date night with Kim and Pete definitely sends a signal to fans that things are getting serious. Yes, even more serious than Pete spending his birthday with Kim, her mom, Kris Jenner, and Flavor Flav. Taking a man home to meet your mom is one thing. Introducing him to your almost former brother-in-law during a movie date is an entirely new level of official.
Scott blessing this union with his presence is just the latest piece of evidence Kim and Pete are actually a thing. Neither the comedian nor the mogul have confirmed their relationship, though both have hinted at it. Just last week during an appearance on Bari Weiss's podcast, Kim alluded to her new romance when asked who her favorite SNL cast member was. "What a setup," Kardashian said. "You know who it is."
Maybe now that Scott's in on this relationship, he can tell us what's really going on between Kim and Pete. Lord Disick, we're counting on you.