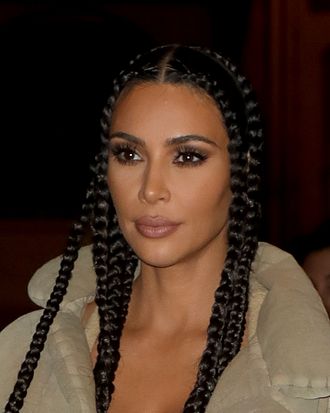 Photo: Pierre Suu/GC Images
I don't know what I expected from the woman who installed flat sinks in her cavernous bathroom and white walls and furniture in a home inhabited by four small children, but I sure didn't think Kim Kardashian's guest house was made from an authentic Japanese samurai home.
In a new interview with Jeremy O. Harris for i-D Magazine, Kim K revealed that the guest house on her family estate isn't just inspired by Japanese architecture, it is Japanese architecture. "Our guest house is actually a samurai's old home that my art dealer, Axel Vervoordt, used to own," she said. "We got the bones of this old house from Japan and built it into our house, because it had such a different energy." According to Kim, the guest house now has "the energy of a warrior," and fits into her family's obsession with Japanese culture. (She and her kids are currently marathoning various anime series on Netflix, per the interview.)
Harris then asked about Kardashian's original Skims name, "Kimono," which sparked immediate backlash for cultural appropriation. "I came up with the Kimono name because it was a play on my name, and because I was so inspired by Japanese culture. To me, it was just paying homage to it, but I quickly realized it wasn't being seen that way." To her credit, at the time, Kim was quick to change the name of her brand. "I would never intentionally try to appropriate the culture in that way. It wasn't my intention at all," she said.
As for other accusations of cultural appropriation, specifically of Blackfishing and appropriating natural protective hairstyles, Kim admitted that, while she knows it might not be appropriate, it's also a way for her to bond with her daughter. "Honestly, a lot of that comes from my daughter asking us to do matching hair. And I've had these conversations with her that are like, 'Hey, maybe this hairstyle would be better on you and not on me.' But I also want her to feel that I can do a hairstyle with her and not make it that big a deal either." She said that she has learned over the years how to better have that conversation with her kids, but also added, "There's also a history of braiding hair in Armenia, and people forget that I am Armenian as well."
I guess I really shouldn't have been surprised by the samurai-home-turned-guest-house after all.