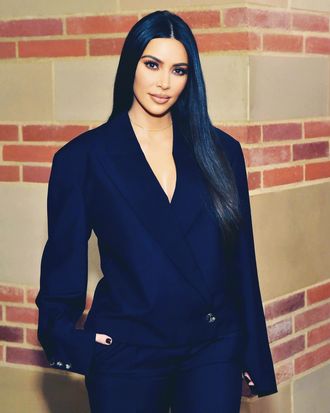 Photo: Stefanie Keenan/Getty Images for UCLA
We are all one step closer to Kim Kardashian West, attorney at law. Today, she announced that, after three failed attempts, she passed the 'baby bar,' the colloquial term for the First-Year Law Students' Examination. "Looking in the mirror, I am really proud of the woman looking back today in the reflection," she wrote on Instagram alongside six photos of herself in an all-blue outfit that looks like an evening gown had a baby with a spandex superhero costume. Incredible.
To be clear, the 'baby bar' is different from the official bar exam, which she's hoping to take next year. However, as Kardashian West pointed out, this first exam does have a "harder pass rate." (Whether or not the 'baby bar' is more difficult than the main bar exam is up for debate.) "I was told by top lawyers that this was a close to impossible journey and harder than the traditional law school route," she wrote on Instagram, referring to the fact that she's taking an alternate route to the bar exam — apprenticing with a practicing lawyer rather than attending law school. "But it was my only option and it feels so so sooooo good to be here and on my way to achieving my goals."
In her post, Kardashian West thanked a handful of people including CNN's Van Jones and her professors at the Bar Bri Law School bar prep. She also paid homage to her late father, attorney Robert Kardashian. "I am told he was notorious for making fun of people who didn't pass on their first attempt like he did, but he would have been my biggest cheerleader!" she wrote after noting that on her third attempt at the exam, she had COVID and a 104-degree fever. ("But I'm not making excuses.") She didn't mention Pete Davidson in her post, which, in my opinion, is a criminal offense.