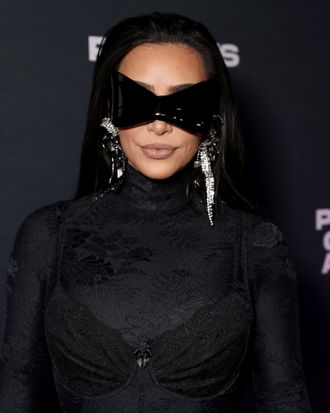 With great power comes great responsibility.
Photo: Todd Williamson/E! Entertainment/NBCUniversal/NBCU Photo Bank via Getty Images
You either die a hero or live long enough to see yourself become the person who everyone is mad at online. Monday night, Kim Kardashian West became the latter. While watching Spider-Man: No Way Home — presumably for the second time — Kim decided she needed some content. So, she took a couple pictures of the movie screen and shared them to her Instagram story. That in itself is never a great idea, but it is a movie sin most of us have committed.
However, Kim didn't just post a picture of the opening Spider-Man credits or an innocuous still of Tom Holland swinging Zendaya around like we've seen in the trailer. Oh, no. Instead, she shared pictures giving away one of the bigger spoilers in the back half of Spider-Man: No Way Home to her 273 million Instagram followers. Oopsy-daisy, Kimberly!
Now, if you'd like to know what Kim Kardashian West posted to her Instagram story, I must tell you it will give away part of Spider-Man: No Way Home. This is my ample warning that SPOILERS ARE AHEAD. Please do not yell at me on Twitter.
Per "Page Six," she posted a picture of Tom Holland hugging former Spider-Men Tobey Maguire and Andrew Garfield, giving away the much-assumed plot point that yes, the two actors reprise their roles in this newest Spider-Man movie. However, you couldn't see Garfield or Maguire's faces in the first picture she posted. So, she posted a second photo to her story where you can clearly see the two actors in their Spidey suits. But when has Kim Kardashian West ever been known for her subtlety?
After an onslaught of backlash, she quickly deleted both Instagram stories. Of course, she is still facing the residual wave of disappointment from those who were not expecting a major Marvel spoiler from the founder of SKIMS. Does it suck to have a movie unexpectedly spoiled for you? Sure. But think of it this way: Kim Kardashian West just gave us something non-political to discuss with our families during the holiday season. In this sense, she has given each of us the greatest gift of all.