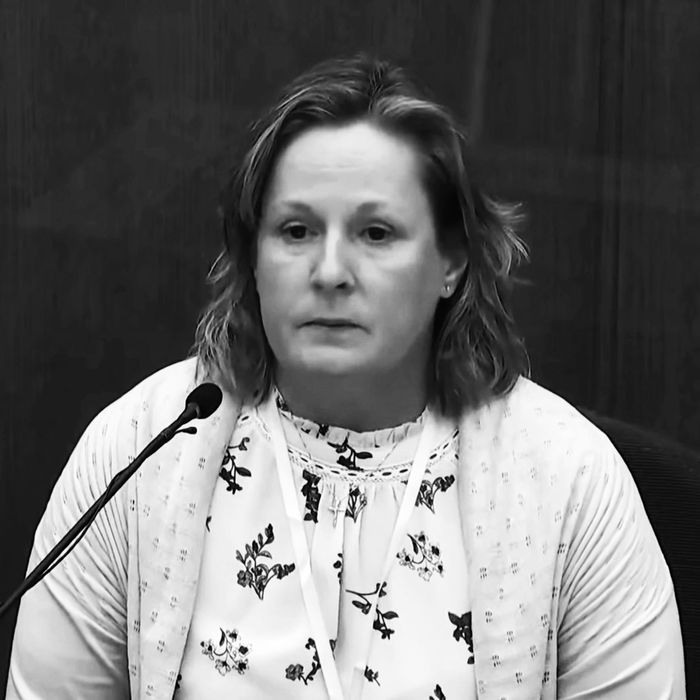 Kim Potter
Photo: Uncredited/AP/Shutterstock
Kimberly Potter, the former Minnesota police officer who fatally shot Daunte Wright, has been found guilty of first- and second-degree manslaughter. A 12-person jury delivered its verdict on Thursday afternoon, after deliberating for 27 hours over four days.
Potter fatally shot Wright, a 20-year-old Black man, during an April traffic stop. At the time, the Brooklyn Center police chief claimed that officers pulled over Wright for driving with an expired vehicle registration and because he had an air-freshener dangling from his rearview mirror, in violation of Minnesota law. They then noticed a "gross misdemeanor warrant" for Wright, the police chief said. Officers allegedly attempted to arrest Wright, who got back into his car. That's when Potter shot him: In body-cam footage from the arrest, she can be heard yelling, "Taser! Taser! Taser!" before firing one shot from her Glock. "Holy shit, I just shot him," Potter says in the footage.
Immediately after the shooting — which occurred as ex-Minneapolis police officer Derek Chauvin stood trial for the murder of George Floyd — the Brooklyn Center Police Department said Potter had reached for her Taser but grabbed her gun by mistake. Nonetheless, the Hennepin County Medical Examiner's Office ruled Wright's death a homicide, and Potter resigned two days later. Then came the second-degree manslaughter charge, with the first-degree count added in September, after Minnesota attorney general Keith Ellison took over the case. Whereas second-degree manslaughter alleges "culpable negligence" in Wright's death, first-degree manslaughter indicates the "reckless handling or use of a firearm so as to endanger the safety of another with such force and violence that death or great bodily harm to any person was reasonably foreseeable."
At trial, prosecutors framed the shooting as an accident, but leaned heavily on the negligence aspect. "Accidents can still be crimes," attorney Erin Eldridge said in closing arguments. According to the New York Times, Eldridge described the incident as "a colossal screw-up" and "a blunder of epic proportions." The defense, meanwhile, tried to pin blame on Wright for attempting to evade arrest — though as the ACLU of Minnesota pointed out in the immediate aftermath of the stop, police often pull Black people over on the pretext of a minor infraction, with the intention of conducting a more serious search or investigation.
Testifying in her own defense last week, Potter broke down on the stand, sobbing her apology and insisting she "didn't want to hurt anybody." But though Potter recalled a "look of fear" on her colleague's face as he tried to handcuff Wright, she also granted that Wright had not threatened any of the officers, nor attempted to hurt them, nor given them reason to believe he had a weapon.
Potter's sentencing hearing has been set for February 18, 2022; the maximum penalties for second- and first-degree manslaughter are, respectively, 10 and 15 years in prison. Addressing the decision at a press conference on Thursday, Ellison said his "thoughts are also with Ms. Potter today."
"She has gone from being an esteemed member of the community and a noble profession to be convicted of a serious crime. I don't wish that on anyone," he told reporters. He continued: "Accountability is not justice. Justice is restoration. Justice would be restoring Daunte to life and making the Wright family whole again. Justice is beyond the reach that we have in this life for Daunte. But accountability is an important step, a critical, necessary step on the road to justice for us all."