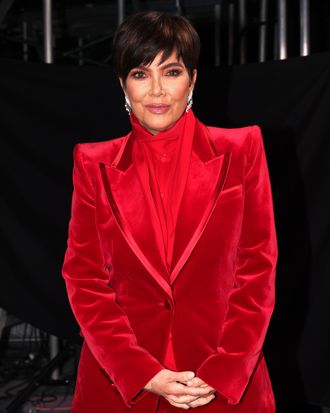 The songstress herself.
Photo: Christopher Polk/E! Entertainment/NBCUniversal/NBCU Photo Bank via Getty Images
The Omicron variant works hard, but Kris Jenner works harder. Since the world's favorite momager had to kancel her annual Krismas party this year, she instead decided to record and release a cover of "Jingle Bells." To which I say … Sure! Why not? If Kris can't bring people to her party, she will bring her party to the people.
On December 24, Kris released a 90-second cover of "Jingle Bells" to all major streaming platforms. The song features the vocal stylings of one Kristen Jenner, drums by son-in-law-to-be Travis Barker, and Kourtney Kardashian on the bells. The song was produced by Kravis Records, which I hope is a sign of more music collabs to come from the world's horniest couple. It's unclear who is wailing on the saxophone in the song — perhaps friend of the family Kenny G? Spotify credits the songwriting to Kris herself. My condolences to the original songwriter, James Pierpont.
Her "Jingle Bells" cover is … fine. My favorite part is the very beginning, when Kris asks if they can speed up the tempo. (Add music direction to her résumé!) Otherwise, the long-anticipated follow-up to her 1994 hit "I Love My Friends" is perfectly inoffensive. It's short. It's silly. It's worth adding to your holiday playlists, if only so that your friends and family can ask, "Is that Kris Jenner?" If you need something to soothe your post-holiday hangover, this probably won't help at all, but you should listen to it anyway.