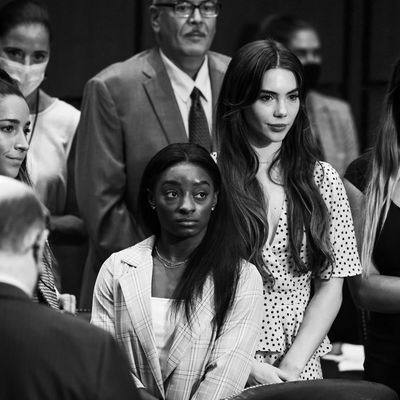 Photo: Anna Moneymaker/Getty Images
After years of legal battles, over 500 gymnasts who were sexually abused by former national gymnastics team doctor Larry Nassar have reached a $380 million settlement with USA Gymnastics and the U.S. Olympic & Paralympic Committee.
According to the New York Times, the settlement is one of the largest ever awarded in a sexual-abuse case. It also marks a pivot for USA Gymnastics, which has argued in the past that it shouldn't be held financially responsible for Nassar's abuse as he wasn't an Olympic Committee employee.
Nassar, a former osteopathic physician, was arrested in 2016 on charges of sexual abuse and possession of child pornography. According to accusations from 265 victims, Nassar abused his position as a medical professional for years, molesting the girls under his care and often penetrating them with ungloved hands when they came to him to treat their injuries. In 2017, Nassar was charged with three counts of receiving and possessing child pornography, and he later pleaded guilty to seven counts of criminal sexual conduct. He is currently serving his federal sentence at a penitentiary in Florida.
"No amount of money will ever repair the damage that has been done and what these women have been through," said Rachael Denhollander, an attorney and former gymnast who says Nassar molested her when she was a child, in a statement responding to the settlement. In 2018, Denhollander became one of Nassar's first accusers to speak out, providing a harrowing testimony of how Nassar digitally penetrated her and groped her breasts while she sought help for her lower-back pain.
Denhollander added that Nassar's survivors needed help for the aftermath of their trauma, including the cost of treatment for PTSD, anxiety, and depression. According to The Wall Street Journal, the settlement also includes nonmonetary provisions that require self-identified survivors to be able to "have official roles in USA Gymnastics," in an effort to ensure the safety of future athletes.
The settlement includes claims from Olympic gold medalists Aly Raisman, McKayla Maroney, and Simone Biles, who  testified against Nassar in Congress earlier this year, expressing  frustration at the ways the FBI allegedly turned a blind eye to continued reports of Nassar's abuse. Following that hearing, the U.S. Justice Department launched a new inquiry into the FBI's handling of the case, despite previously deciding not to prosecute the relevant agents. That investigation is still ongoing.