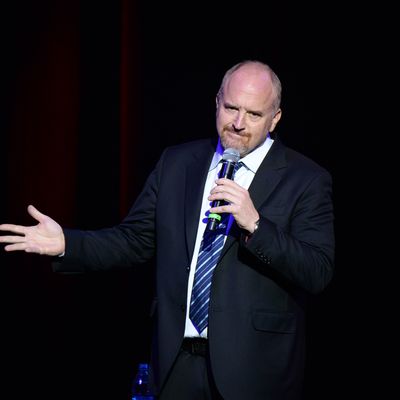 Photo: Kevin Mazur/2016 Getty Images
What could make 2021 even more chaotic? A comedy special by a disgraced comedian, of course! Louis C.K. has a new stand-up special titled Sorry, showing once and for all that he is capable of apologizing — when he's getting paid. The special, which is currently available for purchase on the comedian's official website, is apparently a recording of his August 14 gig at Madison Square Garden. Another big win for cancel culture in the books.
C.K. coming out with a new stand-up special is not surprising. He's been sporadically releasing things on his website for years, ever since 2017, when he admitted to long-rumored allegations of sexual harassment and misconduct, which included masturbating in front of women in the workplace. His comedy-club appearances have even reportedly included jokes about this misconduct. He was just nominated for a Grammy for Best Comedy Album. He may have disappeared from our TV screens temporarily, but his "comeback" has been active for years.
Sorry, however, might be his most prominent "comeback" yet. On Saturday, December 19, a promo for Sorry reportedly played during Saturday Night Live — a show he wrote for in the early 2000s and has hosted four times — which effectively brought him back into the mainstream. The 30-second clip includes the line, "Are you picturing it? It's good. It's really good, nobody gets pregnant." A hilarious quip coming from a man who has a history of asking female co-workers if he could masturbate in front of them, I'm sure.
And in case you were wondering, yes, Sorry seems to be an ironic title. The Daily Beast reported on the show in August, calling it "unapologetic." Again, this shouldn't be a surprise. In 2017, after the New York Times reported on multiple comedians and colleagues who claimed that Louis C.K. had either asked to masturbate in front of them or coerced them into watching him masturbate, C.K. released a lengthy statement admitting that the allegations were true, and seemingly offering up plenty of self-hatred and regret. It did not include the words "sorry" or "apology."
Until C.K. is willing to apologize and atone for what he's done, maybe he should keep this "Sorry" to himself.