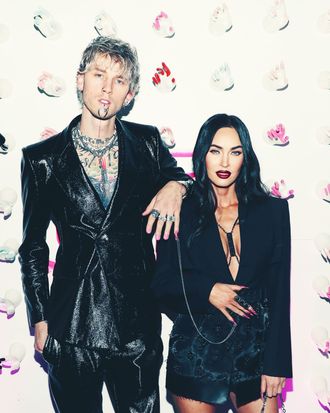 Photo: Jerritt Clark/Getty Images for Machine Gun Kelly's UN/DN LAQR
What is love if not being physically attached to another person via a nail chain? On Saturday, December 4, Machine Gun Kelly and Megan Fox were literally chained to each other while attending the launch of the singer's UN/DN LAQR nail polish line. It's certainly a look — and it's definitely a great inconvenience if someone needs to pee.
MGK and Fox attended the launch event in coordinated black outfits, where they both put a twist on black blazers — something Fox called "hot topic couture" on Instagram — to compliment their bright pink nails. MGK kept his nails nice and short, but Fox opted for long, sharp tips, and one pinkie pierced with a chain that linked her to Machine Gun Kelly's identically pinkie nail.
The two posed for photos with the chain intact, linking them for the world to see, but they didn't stay that way for too long. According to reports, Machine Gun Kelly and Fox undid the chain so that they could mingle freely throughout the night, but I still have many questions. Like, did one of them just have a very long chain dangling from their pinkie all night, or was it removable on both ends? What happened if, while posing for photos, Megan needed to fluff her hair or move it to the side? (A move that is already hazardous when basic jewelry is involved, let alone a long chain linking you to another human.) Even a simple nose scratch could result in serious injury with this thing on.
The implications are endless, and, frankly, exhausting to think about. All I know is that this is a kind of pinkie promise only Megan Fox and Machine Gun Kelly could make.