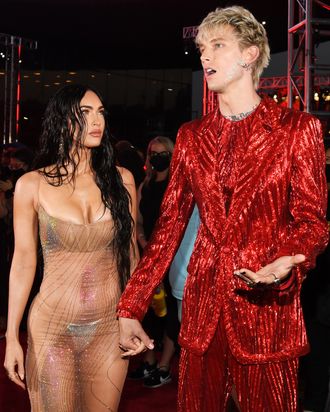 A sugar plum fairy and Santa's angsty teen boy.
Photo: Kevin Mazur/Getty Images for MTV/ViacomCBS
When you picture Machine Gun Kelly and Megan Fox celebrating the holidays together, what visions come to mind? The two of them gathered round the dining-room table? A cozy morning with hot cocoa? Perhaps a few Christmas carols sung in gorgeous harmony? Of course not. It's confusingly sexy. It's a little bit chaotic. It is perfectly condensed into this 18-second TikTok MGK posted Wednesday night.
Right off the bat, we've got the two of them in coordinated silky pajamas and Santa hats. They each have a few more shirt buttons undone than you'd expect at a typical family gathering, making it exactly what you'd expect of an MGK–Megan Fox holiday party. These two cannot help but be a little horny.
Then MGK begins playing with a Bop It! game that I'm assuming was a Christmas gift. He pulls it! He twists it! Then he tries to bop it but instead breaks the game when he hits it on his ass. "You broke it," a small child — presumably one of Megan's — proclaims once before saying again, almost in awe, "You broke it?" This, my friends, is the real reason for the season.
There is so much to love about this itty-bitty glimpse into the life of Megan Fox and Machine Gun Kelly: Megan's look of disdain and lack of surprise, MGK's little "Oopsie!" face when he looks at Megan, the child in the background who probably just wanted to play with his new game rather than film some content. This is my new favorite holiday movie.