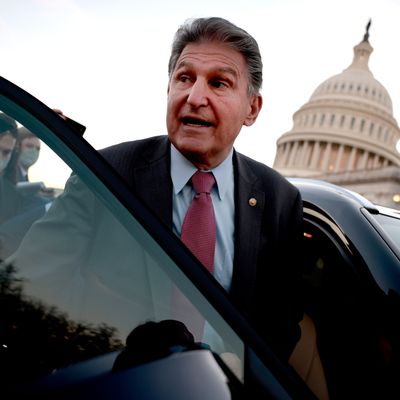 Yacht guy Joe Manchin.
Photo: Anna Moneymaker/Getty Images
Over the weekend, West Virginia senator Joe Manchin III personally tanked the Democrats' $2 trillion spending bill, surprising many of his colleagues and even the president, who apparently believed the Build Back Better Act finally had Manchin's support. For weeks, Biden had winnowed the bill — which originally included ambitious proposals to combat the climate crisis, escalate taxes on the very wealthy, and guarantee paid family leave, among other notable points — in order to win a vote that would get the measure through a 50-50 Senate. But then Manchin, a Democrat, reversed course, explaining on Fox News Sunday that he simply couldn't "move forward."
"I cannot vote to continue with this piece of legislation. I just can't," he said, per the Washington Post. "I tried everything possible. I can't get there … This is a no." Then came the supplemental statement, explaining that the legislation would "dramatically reshape our society in a way that leaves our country even more vulnerable to the threats we face." The bill could indeed dramatically reshape society in that it could substantively reduce financial burdens from health care, child care, and more for millions of Americans, but Manchin said he would not "take that risk with a staggering debt of more than $29 trillion and inflation taxes that are real and harmful to every hardworking American at the gasoline pumps, grocery stores, and utility bills, with no end in sight."
Or that was his public-facing explanation. Privately, HuffPost reports, Manchin complained that low-income Americans would blow any extra funds an expanded social safety net would give them. Specifically, Manchin took aim at the child tax credit, HuffPost reports, speculating that parents who received monthly payments would spend them on drugs. He reportedly made these remarks to "several" other Democrats and mused that the public could not be trusted with things like paid sick leave because people would play hooky in order to go hunting. (Manchin's example.)
Responding to the Cut's request for comment, Manchin's communications director, Sam Runyon, said the senator "has made clear he supports the child tax credit and believes the money should be targeted to those who need it most." Runyon did not address the drug comments specifically, so I cannot tell you what Manchin may have based them on. I can, however, point to a projection from the Center for Law and Social Policy: When Congress reconfigured the child tax credit in March, CLASP said the measure stood to halve child poverty in the U.S. Previously, eligible parents could claim up to $2,000 per child on their taxes, a system that left out an estimated 10 to 25 percent of children at greatest need because it was based on taxable income. As part of the American Rescue Plan, lawmakers overhauled the existing framework to pay out monthly claims of up to $250 per child ages 6 to 17 and up to $300 for children under the age of 6. CLASP predicted a 52 percent drop in poverty levels among Black children, a 45 percent reduction for Hispanic children, and a 61 percent decline for Indigenous children, benefits that could extend over generations if the change became permanent. Intelligencer posits that Manchin's apparent about-face on the bill may be an invitation to further negotiations, but as it stands, the child tax credit looks set to expire at the end of the year.
This attitude probably shouldn't be surprising from a man who has asked that "work requirements" be attached to social-spending components of the bill. (That would, again, exclude children without working parents or guardians.) In October, he refused to sign off on the tax credit, paid family medical leave, and subsidized child care all at once, telling his colleagues they had better choose one if they want to avoid turning "our society into an entitlement society." Of course, we already live in one of those, and the current setup is quite favorable for yacht owners like Manchin. In the U.S., it costs about $15,000 annually, on average, to raise a kid in a middle-class, two-parent household. Meanwhile, the Census Bureau's data on the newly reconfigured child-tax-credit payments (which amount to $3,600 per year, at maximum) show that over 90 percent of households making less than $35,000 a year have been spending the extra money on education, food, clothing, housing, and utilities — the bare necessities, in short — which jibes with evidence out of Canada.
Not that I expect Manchin to be swayed by any of that. Last week, he told HuffPost he has "always been for child tax credits," but when asked if he was for them in the revised monthly format, he reportedly responded, "This is bullshit. You're bullshit."
This article has been updated.