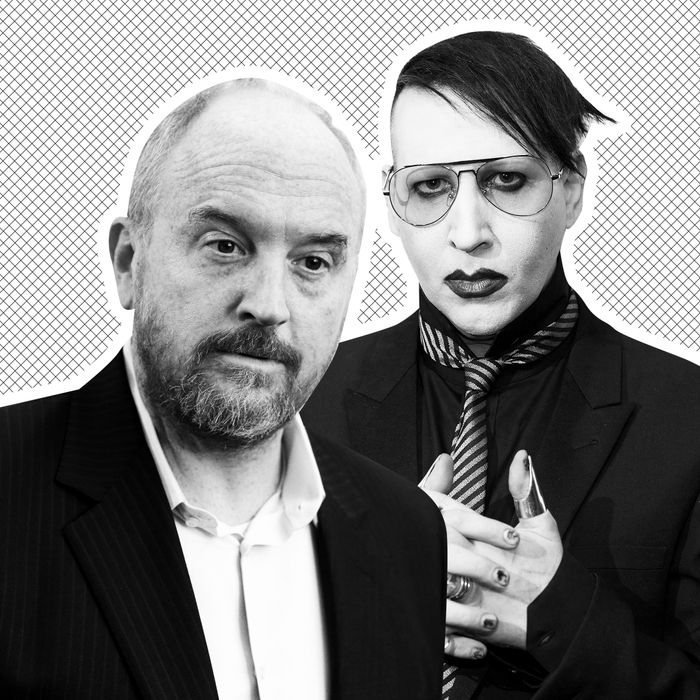 Photo-Illustration: by The Cut; Photos: Getty Images
Last week, the 2022 Grammy nominations dropped, including no less than seven nominations for Olivia Rodrigo, as expected. But this year's list of nominees also includes a string of men who, despite many claims to the contrary, apparently cannot be canceled.
For example, Louis C.K., who has been accused of sexual misconduct by five women, was nominated for Best Comedy Album. In 2017, C.K. apologized for his behavior, acknowledging that "the stories are true" and expressing remorse, concluding that he would "step back and take a long time to listen." It seems that long time ended a while ago, as C.K. launched a comeback tour earlier this year. In Sincerely Louis C.K., the comedy special for which he's been nominated, he discusses his life after the accusations, noting that he has learned to sit alone in restaurants where other patrons flash him the middle finger. He also makes jokes about the (again, admittedly true) accusations that he masturbated in front of female colleagues. "I like jerking off," C.K. says in the special. "I like company. I like to share. I'm good at it, too. If you're good at juggling, you wouldn't do it alone in the dark. You'd rather gather folks and amaze them."
Another disgraced man to get a nomination? Marilyn Manson, who's facing several lawsuits over allegations of sexual assault, sexual battery, and human trafficking and received a nod for his contributions to Kanye West's Donda. Manson, whose accusers include actresses Evan Rachel Wood and Esme Bianco, has repeatedly denied the allegations against him. Also nominated this year: rapper DaBaby, who also has a credit on Donda despite widespread backlash from fans and other high-profile musicians following homophobic comments he made onstage earlier this year. Dave Chappelle, whose recent Netflix special has come under fire for transphobia, was also nominated in the spoken-word category for 8:46, his collaborative album with poet Amir Sulaiman.
While Manson was originally nominated twice for his work on Donda, the Recording Academy subsequently announced that he would no longer be nominated as a songwriter for Best Rap Song — apparently not as a result of the backlash, but due to the fact that "he is not listed among the writers on the most current version of the album," the New York Times reports. However, his nomination as a featured artist in the Album of the Year category still stands. The news came days after the Los Angeles Sheriff Special Victims Bureau served a search warrant at Manson's West Hollywood home.
In an interview with The Wrap following the initial nominations, Harvey Mason Jr., the Recording Academy's CEO, responded to the backlash surrounding Manson's nomination in particular, arguing that the allegations aren't a relevant consideration: "We won't look at people's history, we won't look at their criminal record, we won't look at anything other than the legality within our rules of, is this recording for this work eligible based on date and other criteria."
Well, I guess we have yet another example to point to the next time Dave Chappelle (or anyone else, for that matter) goes on a rant about "cancel culture."