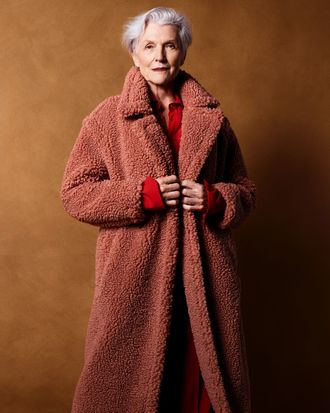 Maye Musk — a supermodel who has walked the runway for Christian Siriano and been in ads like CoverGirl — was famous long before her billionaire son.
But when Musk first started out, her last name was not a draw. In fact, her beauty ads didn't include her name at all, which made it easier to hide the fact that she was modeling from the clients at her "real" job as a dietician.
"It's so different now and the standards are so high," said Maye of the modeling industry, earlier this fall, while having dinner to celebrate her latest UGG campaign at the Waverly Inn Garden.
Musk grew up in South Africa with Canadian parents who lived through the Great Depression, whom she described as "very frugal." Her and her four siblings would grow their own food and make their own clothes. Maye remembers starting to work for her parents at the age of 8, when she started buying material.
As a single mom, she turned a room in their home into an office and would have her three children — Elon, Kimbal, and Tosca — answer the phone and take bookings for her. They'd even sit front row at fashion shows she'd walk in sometimes because she couldn't get a babysitter.
We chatted with Musk recently.
You started modeling over 50 years ago at 15 years old. I'm sure you've noticed a lot of changes in the fashion and beauty industry. What are some things that still need to change? 
Diversity. I'm in my 70s and I think it helps women to not fear aging. Seeing a woman working and being appreciated for her age helps younger people in the fashion industry to feel more confident in their future. I hope to see more designers continuing to push for diversity, including age, I'd love to walk more runways.
You've been in campaigns this year and also are working on a second book. How are you dealing with burnout?
I don't have a stressful life anymore, which is great. That's what I find great about aging — you say "no more." I was used to saying "yes" to everything and now I'm saying "no" so that I don't have too many things going on everyday in my life. Even with work, I reject a lot. I've worked so hard all of my life to try and get jobs and now the jobs come in effortlessly. It's about time, I'm 73 years old.
Learning how to say "no" and setting boundaries is definitely something we see more people trying to grasp. What else in life are you no longer pressuring yourself to do?
Honestly, I never stop hustling. I never have the mindset of, "oh, everyone is always going to want to book me," even with all the rejections my agents have to send out. I still have to put myself out there, be on social media, and be aware of what I take on knowing that represents me in the best way possible.
What will you be doing to wind down and celebrate for the holidays? 
I mostly look forward to just spending time with my family. We always get together, we were together for Thanksgiving and now we'll be together again in a few weeks.
Are there any special family traditions you have?
We cook sometimes and I always eat too much, which is typical for the holidays. We usually go quite traditional with turkey or a roast. Kimbal and Tosca are both good at cooking, so they usually take the lead there.
Disclaimer: The writer of this story has collaborated with Uggs as a paid inflencer to promote the brand in a personal capacity, unrelated to her work at The Cut. The Cut has no existing relationship with the Ugg brand and this story was produced independently.