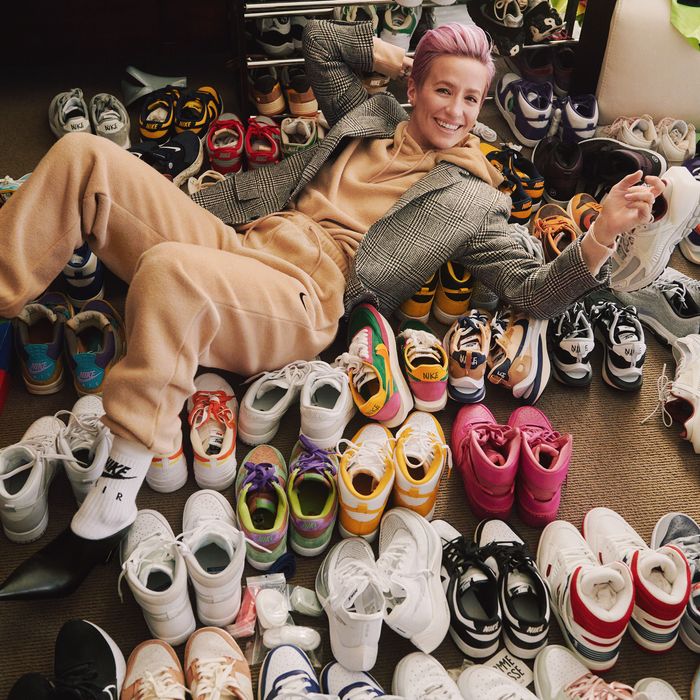 On Wednesday, world-class soccer player Megan Rapinoe revealed a new collaboration with Nike, in which she curated some of her favorite pieces from the brand's new fall line. But this partnership marks the beginning of something special — not only has Rapinoe developed her own logo, which can be found on Nike clothing this fall, but she's also slated to co-create a collection with Nike designers in 2023, putting her up there with athletes like Venus and Serena Williams and Michael Jordan, who've done similar work with the brand in the past. Rather than the signature Nike swoosh, Rapinoe's logo takes the shape of a 'V,' which stands for her slogan: "victory redefined."
Below, we spoke with the soccer star about what redefining victory means to her in the context of fashion, and how she'd style some of the pieces from the collection.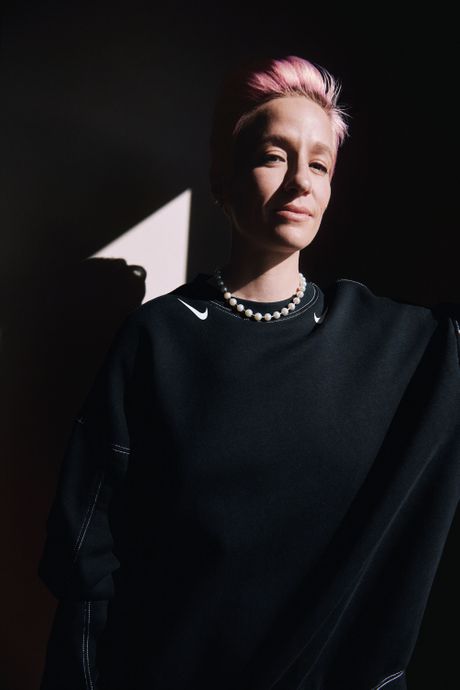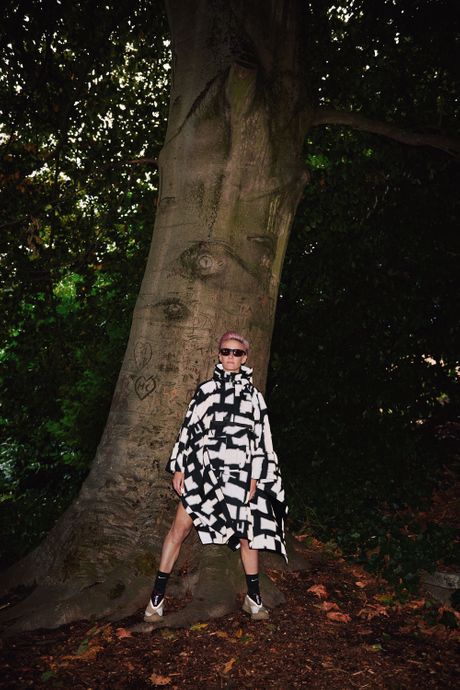 On Instagram, I saw that you and Sue Bird share a fuzzy Marni sweater. Is there an item from the collection that Sue might steal from your closet?
Probably the crew neck as well. It's a versatile piece. Maybe the white one. It's a thicker material, and is a little bit more structured, so you could wear it under a suit jacket, or you could wear it as something nice and still be able to have that laid-back feel. But yeah, we have a lot of mohair. Obviously, mohair is having a moment. The problem with the mohair [Marni sweater], though — sorry, I won't take too much of your time here talking about mohair — is that it's so bright, it's so wild, it's such a statement, that it's like, how often are you going to wear this crazy striped sweater, you know? But I mean, it's so expensive, so you've got to wear it.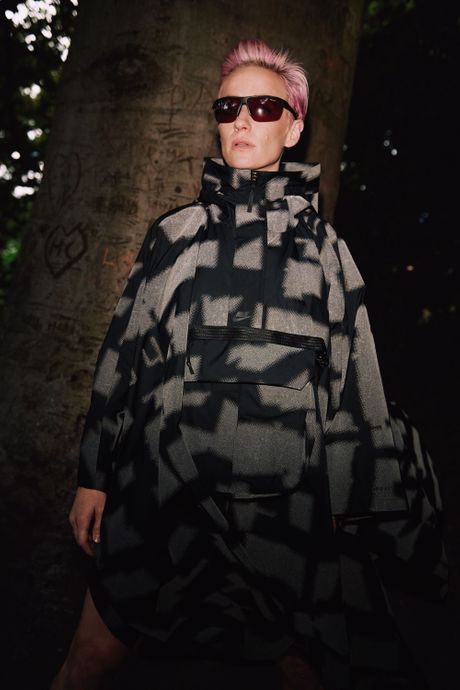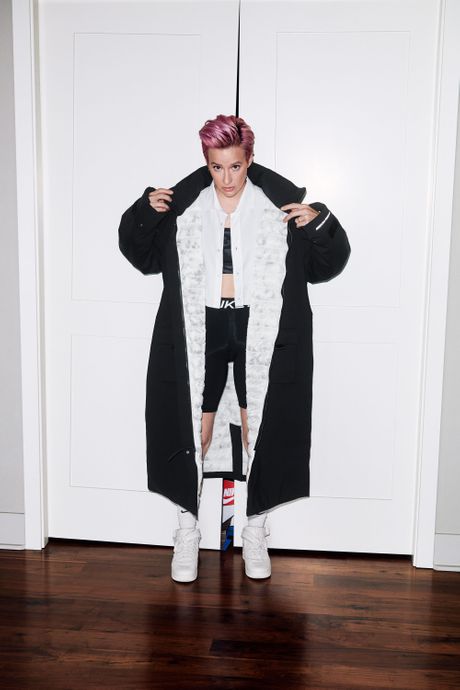 You mention that the goal for this collection is to "redefine victory." What does victory or success mean to you in the context of fashion?
I feel like it's a victory every time I get a good 'fit' off, [laughs] because I feel good in it. It could be an all-black outfit that, for whatever reason, just hits for me that day. But I think the whole point is to value that feeling of: I'm doing this for me. As opposed to, Oh, this is what everyone's wearing, so if I wear this too, then I win. What does that really mean? That's so fleeting.
I saw that you posted something about Virgil Abloh after he passed away. I'm wondering if there's anything that you share that you've learned from him and his legacy as a designer?
He left every door open. And not just like, Hey, I opened it, good luck. He brought everybody else along with him. He said: You can do it too, and I think that's really powerful. His creativity, his commitment to trying new things, his commitment to expressing himself, whether it be the way he painted his nails, or the way he wore a wedding ring, and his commitment to celebrating other people I think will have a long-lasting effect. I don't think he viewed success like, Oh, I'm at Louis Vuitton, so I'm successful. He said everything he did was for his younger self, and to bring a lot of other people along with him.
And what about you? How would you describe yourself as a designer? What's your process like?
I always have a million edits, but probably only like, four will actually be able to be implemented. [Laughs.] I've been wearing sports clothes my entire life, and it sometimes feels like we've just settled. Like, Oh, this is what a sweatshirt feels like, and it is what it is. But how can we constantly tweak it to make it better? Or add little details, or have a little more creative control over it. There's just nothing better than putting something on that just fits. Your confidence goes up ten levels when you feel good in something, and you don't have to think about where it fits on your body.
You mentioned that your partnership with Nike goes beyond cool sweatshirts and T-shirts. What would you say your broader goal is here?
I'm 36 years old. I'm not 22, and I'm not going to play for 20 more years. I want to tell a different story about success. I think so often the story of success, especially with an athlete, is told through the lens of: it's really only possible for a male athlete. I think for women athletes, we've always had to do multiple things at the same time. We've never just been able to really play our sport. We have an ingenuity and creativity. We have a focus on community and making — without trying to sound too cheesy — in making the world a better place, and bringing other people along with us. We focus on equality and breaking down the status quo. So, in our conversations with Nike, it was like, listen, we can be extremely successful on and off the field. Normally, the best player gets the best deal, gets the line, gets all of the things. And that's great. But I think for us, we want to have success on the field, but the way that we can reach people off the field is just as important, or even more important.
This interview has been edited and condensed for clarity.