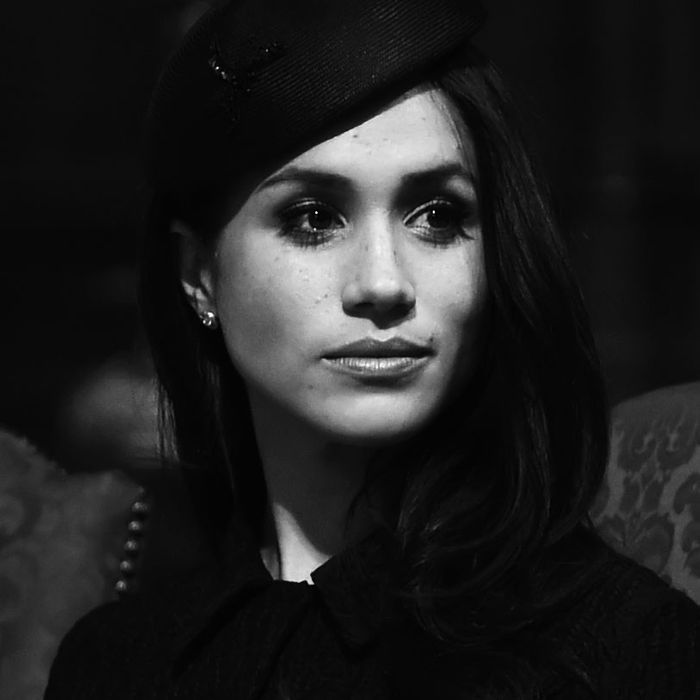 Photo: WPA Pool/Getty Images
As Prince Andrew continues his attempts to have the civil suit against him dismissed, a lawyer for the plaintiff, Virginia Roberts Giuffre, is moving forward, suggesting that he will attempt to depose some other members of the royal family, including Meghan Markle.
Prince Andrew is currently being sued by Giuffre, who for years now has publicly accused him of sexually assaulting her on three separate occasions in 2001, while she was 17 and allegedly being sex-trafficked by Jeffrey Epstein. Despite denying all allegations against him, Andrew stepped back from royal duties in 2019 in an attempt to protect the Crown from his potential controversies. However, it might have been too little, too late.
On Tuesday, December 21, Giuffre's attorney David Boies told The Daily Beast that he was considering deposing Markle as part of the civil suit. He claimed that Meghan, as a former royal herself, "was a close associate of Prince Andrew and hence is in a position to perhaps have seen what he did, and perhaps if not to have seen what he did, to have heard people talk about it." Boies also noted that Markle is one of the more accessible members of the royal family, as she lives in the U.S. and is a U.S. citizen. But, most importantly, he said, "She is somebody who we can count on to tell the truth."
This doesn't mean that Meghan will end up testifying in a trial, however. Thus far, the civil suit has yet to move forward to discovery. On Tuesday, December 14, lawyers for Prince Andrew filed a motion to have the case dismissed, essentially claiming that Giuffre cannot prove that she engaged in any sexual activity against her consent. "The only witnesses to the purported implied threats under which Giuffre allegedly engaged in unconsented sex acts with Prince Andrew are Epstein (deceased) [Ghislaine] Maxwell (incarcerated), Prince Andrew (the accused) and Giuffre herself," reads the motion, per USA Today. Furthermore, the motion claimed that Giuffre, who was 17 at the time of the alleged abuse, was over the age of consent in New York State, where she is suing. A judge will hear the motion on January 4, 2022.
Assuming that the case is not dismissed, Boies said that no decisions had been made on depositions, and mentioned that he was considering bringing in a few people close to Prince Andrew, namely Markle and potentially Sarah Ferguson, Andrew's ex-wife. Still, a sitting for a deposition and testifying in trial are two different things.
This wouldn't be the first time Meghan Markle got dragged into the drama surrounding Prince Andrew. Back in March, Gloria Allred, who was representing women allegedly trafficked by Epstein at the time, called out Buckingham Palace for investigating accusations that Markle had bullied staff, while ignoring the allegations against Andrew. "The investigation into Meghan Markle is a distraction, and it appears hypocritical under the circumstances. I have to wonder if it reflects a calculated decision to take the focus off of Prince Andrew," Allred said in a statement at the time, as reported by The Guardian.
No matter what Meghan does, the royal family finds a way of pulling her back in.