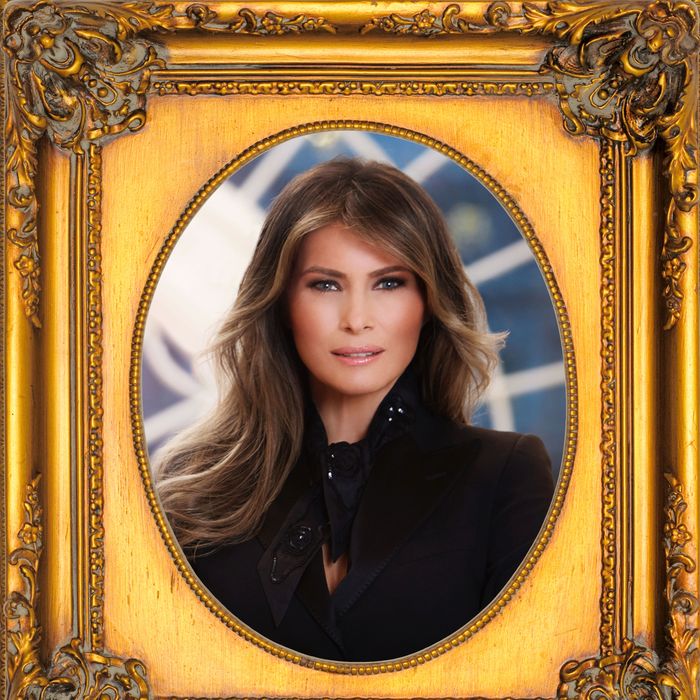 Of course she is
Photo-Illustration: by The Cut; Photos: Getty Images
Two concepts I bet you never thought you'd hear mentioned in the same sentence: Melania and NFTs. And yet here I am, blowing your mind once again with the news of the former first lady's entry into the non-fungible token game. MELANIA announced Thursday on TWITTER that she would be releasing and selling NFTs at "regular intervals" on MelaniaTrump.com, starting TODAY.
The first NFT up for grabs — this offer runs through December 31 — will be a watercolor of Melania's "cobalt blue eyes," per the press release, by artist Marc-Antoine Coulon. Or, I guess, a digital image of said watercolor? Anyway, the NFT is aptly titled "Melania's Vision," and allegedly provides "the collector with an amulet to inspire." Like all the other items in Melania's "NFT endeavor," it presumably also "embodies" her "passion for the arts, and will support [her] ongoing commitment to children" via, what else, her Be Best initiative. I am fairly sure that the sale of this and other NFTs will help fund the provision of "computer science skills" to children, "including programming and software development," so they can "thrive after they age out of the foster community." The inaugural NFT costs 1 SOL (about $150) and comes with a recorded "message of hope" from Melania.
Listen, I simply don't get NFTs; I do not understand how they work and I won't spend more time trying to. I maintain that this attitude is fine to have, because not even art-tech-influencer people, whose business it should be to know about NFTs, seem to know about NFTs. (To judge by Art Basel Miami at least.) New York's own art critic, Jerry Saltz, advises me to "think of NFTs as a brush," which doesn't clarify the concept at all (sorry, Jerry) and maybe even makes the matter more opaque to me. But the general gist of NFTs, as far as I can tell, involves the cryptocurrency-only sale of a digital asset that is exclusive to the buyer and cannot be exchanged, because that is what non-fungible means. So whoever buys "Melania's Vision" will enjoy, effectively, a receipt of purchase for the image of the watercolor. And the message of hope, never forget. What else will be in the series? No idea, though I personally am hoping for pics of her Whitehouse.gov blog, any of the times she openly seethed at her husband's side then tried to correct course, or her spooky "Christmas stuff." A festive seasonal touch, no?