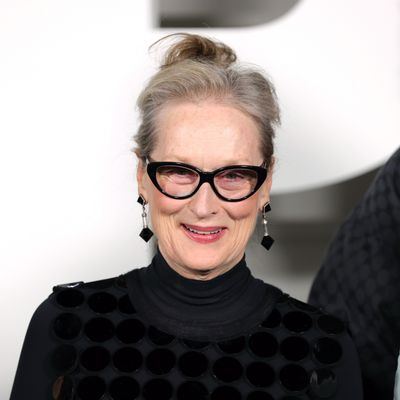 Photo: Dia Dipasupil/FilmMagic,
Meryl Streep is so cool, she let Jonah Hill and Jennifer Lawrence call her a "goat" for days, without realizing they were actually calling her the G.O.A.T. At least, that's what the Don't Look Up co-stars are saying.
Both Hill and Lawrence recalled the story on their separate late night appearances Monday, December 6. "We've been doing press for this movie, and in the interviews the past couple days, I keep saying, 'Oh, and you know, getting to work with Meryl, she's the G.O.A.T," Hill said during an appearance on The Tonight Show with Jimmy Fallon. "Then, today, we're doing a press conference and she's like, 'You know, and Jonah is so comfortable with me, he's been calling me a goat all week.' And I'm like, 'What the f—?'"
According to Hill, Lawrence stepped in and explained that Hill wasn't calling her an actual farm animal, but the "greatest of all time," something Streep, apparently, took in stride. "She's so cool, she wasn't even offended by it," Hill noted. "She was just like, 'I guess he loves me and is calling me a goat.'"
During her Monday night appearance on The Late Show with Stephen Colbert, Lawrence recounted a similar story, telling the host, "We just offhandedly call Meryl the G.O.A.T. We were doing a photoshoot and Meryl said, 'That's right, just tell the old goat where to go.'"
I truly don't know what's better, the fact that Streep is so much better than everyone (let's face it), she doesn't need to know what "G.O.A.T." means, or that she thought Hill and Lawrence were calling her a literal goat and didn't care. And as great as it is to know that a woman with dozens of awards will let herself be called a "goat" by two younger actors, I can't help but think that we have failed Streep in some way. How could the G.O.A.T. not know what G.O.A.T. means?
So thank you, Jennifer Lawrence, for righting this wrong for us all. I'll sleep easier tonight knowing that Meryl is completely aware of how great she is.