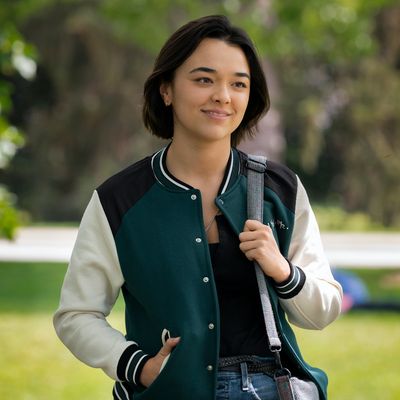 Photo: David Giesbrecht/HBO
Mindy Kaling's newest series, The Sex Lives of College Girls, lives up to its name. Following four freshman roommates at a fictional Ivy League–like college in Vermont, we get to experience the joys and horrors of that very specific time in our lives. If you've been keeping up with it, you know that fans (i.e., me) are obsessed with the unexpected romance between the closeted lesbian and rich-city girl Leighton, and Alicia, whom we don't meet until a little later on in the series. It makes sense the world is obsessed — there is something victorious about finally having a cute lesbian relationship to root for on your television.
Played by 27-year-old Midori Francis, Alicia is introduced in the third episode of the series as the leader of the Essex College Women's Center, where Reneé Rapp's Leighton has to spend 100 volunteer hours for underage drinking. It's obvious the two don't get along, and the early scenes between them are some of my favorites. Turning the trope of a PC Women's Center on its head, while also making valid points to why it should and does exist, the boldness of Francis's character becomes a strict contrast to Rapp's repressed one. It's not until the middle of the season when the two go to a frat party together, where Alicia is harassed and called a slur, that the two kiss. It truly is the enemies to lovers trope done well. And Twitter loved it.
"I think they call us Leicia?" Midori tells me over Zoom, hinting at the couple name the world has given them, like Bennifer or Bughead. She's newly into Twitter, so she's seeing all the fans who are reacting and posting about their love of her relationship. "I don't tweet, I retweet," she says. "And I'm engaging with fans."
It's a role so different from her previous one on Dash & Lily, the Netflix New York holiday series from last year that had everyone going to the Strand looking for love. She played Lily, who was quirky and innocent, and whom Francis calls "a bubbly Christmas elf," which sounds about right. And even though that was her first lead role, and the series didn't get renewed, she was happy with it. "At the moment, I was just happy with my experience and truly overwhelmed with the outpouring of support and the critical support that we got," Francis says. "I did feel grateful because I do think our season wrapped up really beautifully."
The series received an acknowledgement for its Asian representation, and for the fact that the actors who played Francis's family were all of Japanese descent like herself. "We have these creators that are giving people a chance," Francis explains. "Joe Tracz who wrote Lily and it was his idea that she was Asian because he did a play and saw the impact that having an Asian lead had on the audience." Similarly, The Sex Lives of College Girls features so many different women, men, and nonbinary actors who are diverse and real, and not by coincidence. It's another show with writers and creators who have put effort into doing so. "The fact that I get to work with people like that, and I don't know that it would have been possible at any other time period, there's a lot to be grateful for," Francis says. For her, it's the moments of fans coming up and saying a character made them feel seen that's worth it. It's the activist within her, that she had to tap into to play such a bold character like Alicia, that makes her want to show Asian representation on our screens. Playing characters that mean something to someone is what excites her.
And what else drew Francis to Alicia and The Sex Life of College Girls? "Mindy Kaling," she says. "There are few people who have managed to get to the level Mindy Kaling has reached. And the fact that when Justin Noble pitched this character to me, he did so with such care. I've been wanting to play a queer character for a long time." Noble, the showrunner alongside Kaling, wanted to tell the story of two young women in love, while also highlighting how hard coming out can be, especially in a relationship where one of them already has. And ultimately, that's what ends it.
The series just got renewed, and it's pretty obvious that people will not feel content with the ending, especially since the two break up. Francis is rightfully worried about her Twitter fan base. "Are you gonna send me a dead horse? I feel like they're gonna be so mad because they're already like, 'If they break up!'," she laughs. While she doesn't even know what's in store for "Leicia," Francis wants them back together just as much as the rest of us.