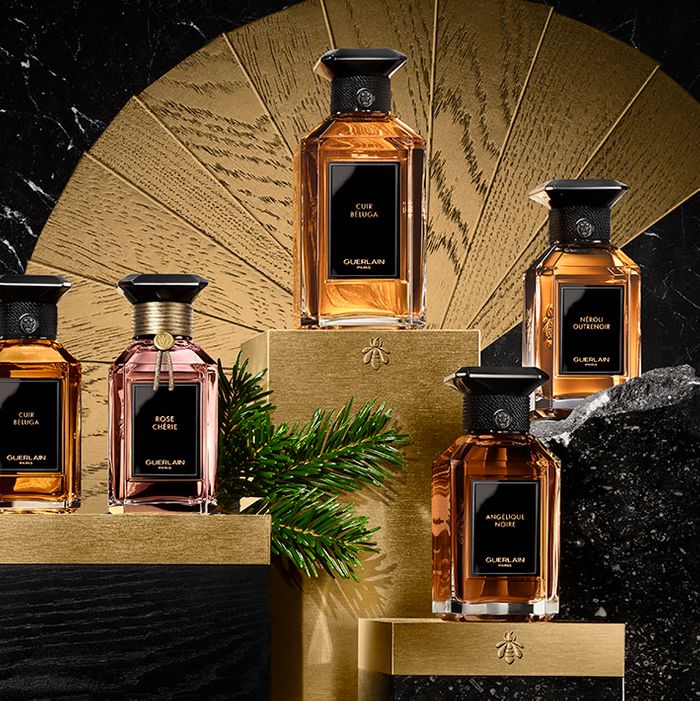 Photo: Courtesy of Guerlain
Everyone has their own definition of creating a masterpiece. For some people, it's sinking into the meditative art of ceramics and firing the perfect vase. For others, it's turning a poem into beautiful street art. Or it might even mean leaving a painting-inside-a-painting that stays a secret for more than a century. No matter the medium, the goal stays the same: creating something meaningful that'll live on in the memories of those who get to enjoy it.
Perfume, too, is an art form, and a new fragrance collection captures the essence of creativity. L'Art & La Matière Collection, featuring exquisite scents from Guerlain Haute Parfumerie, spotlights perfume-making at its finest. Guerlain master perfumer Thierry Wasser and perfumer Delphine Jelk developed 17 original fragrances, each inspired by a work of art — and each a work of art in its own right.
"You confront your imagination," Wasser says about the perfume-making process. He envisioned each ingredient as its own color, part of a total creation with depth, texture, and impact. "What I like most about it is the blank page," Jelk adds. Using raw materials like fine rose petals or the short-lived angelica flower, the perfumers crafted distinctive blends that Jelk hopes will evoke emotions "like looking at a painting."
Ahead, five highlights from the collection, each of which celebrates the art of scent in its own way. Choose your favorite or choose them all — there's a blank canvas waiting for you.
Santal Pao Rosa
A theme of L'Art & La Matière Collection is taking scents to daring new places, using notes in abundance to make a statement. Santal Pao Rosa is no different, with powerful sandalwood complemented by scents of rose, cardamom, and myrrh. The perfumers liken it to a classic sculpture, with strength and balance. There's also a nod to Guerlain heritage in the name: Aimé Guerlain created a fragrance called Pao Rosa in 1877.
Spiritueuse Double Vanille
Imagine yourself far, far away, finding inspiration from the spectacular beaches of Tahiti. Spiritueuse Double Vanille will take you there. Pure vanilla notes mingle with fragrant jasmine and cedar, with a hint of spiced rum. If this doesn't take you on a creative journey, then we don't know what will.
Angélique Noire
If you've seen Black Swan — or any off-the-screen iconic ballet — then you'll appreciate that the best choreography plays with contrasts. Quick gestures or slow, light or dark, joyful or somber. In this fragrance, it's the bite of angelica flower paired with lush vanilla. Add in pink pepper and woodsy notes, and your senses will be dancing.
Rose Chérie
If you spent an afternoon taking in the sights and sounds at a Parisian café, you'd inevitably encounter the scent of rose perfume wafting through the breeze. But rather than create a one-note floral scent, Guerlain has composed a symphony, layering delicate rose in three forms: rose water, rose essence, and Damascena rose absolute (a type of precious rose oil). Unexpected hints of green almond and mauve violet make Rose Chérie all the more romantic.
The Perfumer's Set
Not sure which fragrance you'd love most? The Perfumer's Set lets you experience the art of scent in all its facets. The set includes travel sizes of the fragrances above, along with options like Cuir Béluga (a soft-leather scent with hints of citrus) and Rose Barbare (a bolder rose perfume with woodsy notes). In total, eight scents come tucked into a white case — artfully distinguished and delicate.
This advertising content was produced in collaboration between Vox Creative and our sponsor, without involvement from Vox Media editorial staff.