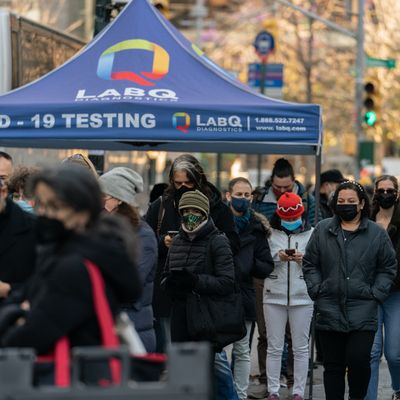 New Yorkers waiting for COVID tests this week
Photo: Bloomberg via Getty Images
The coronavirus pandemic plays time like an evil accordion, and that is one of its most exhausting qualities. It's disorienting to live in déjà vu all the time. I think about the holidays last year, all the warnings from public-health officials to please not travel as national transmission rates surged around Thanksgiving: the November Saturday when I woke up much earlier than I do for work, assuming that getting to the urgent care before it opened would shorten my wait for a rapid test. My little snort of recognition when the line that looked manageable from a distance actually wrapped around the corner, then stretched down the block and across a street. Texting to a group chat, The hottest club in New York City is this Modern MD, which is maybe also where I finally catch COVID?
The scene above played out a full year ago, though it also feels like it happened yesterday — as in December 15, when seemingly all of New York lined up to have their nostrils dusted for pathogens. In a pandemic, time is always eating its own tail, so you never really know where you are in the cycle; I am still surprised, for example, when the memes inform me that 2019 ended two winters ago rather than one. Now that the holidays are upon us again, time is dutifully circling back on itself, recalling familiar circumstances: With the new and especially contagious Omicron variant apparently fueling wildfire infections both internationally and domestically, people are once again wondering what to make of holiday plans. The Centers for Disease Control and Prevention isn't going to come right out and tell you what the right call would be; whether or not you should get on the plane, see Grandma, bring the baby. The nation's leading health agency really wants everyone to get their vaccines, wear masks, and limit crowd sizes — basically, to use good judgment given the facts on viral spread. Unfortunately, though, good judgment and respect for facts are not traits for which the United States is known, necessarily. The country just surpassed 800,000 coronavirus-related deaths, the highest reported figure in the world, and one that becomes all the more alarming when you factor in our vaccine supply.
Maybe the reliance on subjective risk assessment also explains why — at least in New York City — it currently feels like everyone has COVID. The situation seemed to spiral out of control while you slept: Your friend canceling plans on Sunday, because their neighbor, who was over at their house two nights in a row, just found out she had a breakthrough case. Then three of your mutual acquaintances test positive, then your date, and now you are reading a blind item about a media company hosting a superspreader event when it meant to have a holiday party. Which media company are we whispering about here, you wonder through a grimace. The answer becomes clear when three-quarters of the people you follow on Twitter go online to either advertise the astounding lines that mushroomed outside their typically quiet testing sites or disclose their own fresh diagnoses. According to the CDC, Omicron is currently spreading faster in New York and New Jersey than anywhere else in the country — cold hard data to support the anecdotal evidence. You regret last weekend's karaoke.
Realistically, though, the rise was not so abrupt, even if Wednesday felt like the city's tipping point: The seven-day average for new cases has doubled since Thanksgiving, exploding the demand for tests this week. "It's almost like PTSD from 2020," Dr. Andrew Wallach, the head of New York City's Health + Hospitals ambulatory-care operation, recently told Intelligencer. Which, yes: Pharmacy shelves are once again bare of resources, and whole afternoons cannibalized by the wait for a COVID test. You thought it was about to be 2022, but then Omicron squinches the accordion, and suddenly you're back in 2020.
Except, of course, this version of 2020 has vaccines with boosters to boot. But while vaccines have so far proved very useful for keeping hospitalizations and deaths to a relative minimum, they are conspicuously less useful for answering the Omicron question. Breakthrough cases, even if mild, are everywhere — to the degree that you are wondering how you missed this memo. Does this mean the boosters really are that effective? Or are your symptoms simply waiting for you to arrive at the family gathering? The one constant about COVID is that you never really know anything for sure. Experience so far suggests that if you use your mask and wash your hands and get your shots and continue testing, you can keep your potential for contagion under control — at least until another variant comes waltzing into the picture, turning over the table as soon as everyone is seated and the soup is served.
Anxiety is an evergreen hallmark of the holiday season, but COVID comes with uniquely intrusive thoughts. Chiefly: Is it going to be like this forever? One year bleeding indistinguishably into the next, the same weddings and office reopenings and relocations and vacations continually shuffled down the ice in the endless game of curling that is life these days? While every couple of months, death rates — never really all that low to begin with — surge like clockwork, as the latest mutation pecks large chunks from the population? How much time will we lose this way? I don't know. I will leave that for the experts to game out. These are just a few of the things I will be thinking about while I wait in the interminable urgent-care line too early on a Saturday morning, ending 2021 just like I started it.