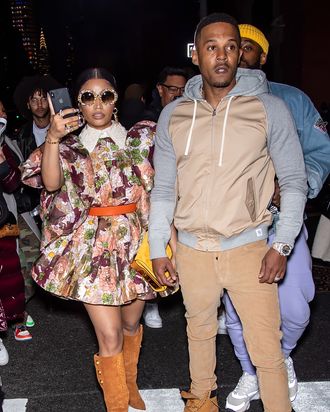 Photo: Gilbert Carrasquillo/GC Images
Back in September, Nicki Minaj made headlines for a slew of unfortunate tweets that came to be known as "ballgate." But some suspected the nation's preeminent vaccine skeptic may have staged a Twitter meltdown to distract from a bigger scandal: a lawsuit alleging she has been harassing a woman who accused her husband of sexual assault. Regardless of her intent, her anti-vaxx fiasco seemingly backfired and drew even more attention to her legal trouble. In late September, the woman behind the lawsuit appeared on The Real to give a harrowing account of her experience with Minaj and her husband. Here's what we know.
Minaj and her husband are being sued for harassing a woman who says he raped her in 1994.
On August 13, Minaj and her husband, Kenneth Petty, were hit with a lawsuit from Jennifer Hough, who says the couple has been harassing her to recant her report of Petty raping her in 1994. At the time of the assault, Petty and Hough were 16 and living in Jamaica, Queens. In September 1994, Hough told police Petty had forced her into a house at knifepoint and raped her. In an interview with The Real, she recalled Petty beating his chest in the mirror after the attack and saying, "I'm the man." Eventually, she was able to escape and run to her high school, where security guards called the police.
Petty pleaded guilty to attempted rape and served four and a half years in prison, but not before he and his friends harassed Hough and her family to take back her statement, according to a Daily Beast report from earlier this year. She maintains that she never expressed a desire to recant, though her family tried to convince her to drop the charges to end the harassment.
Minaj has been saying her husband was falsely accused for years.
In 2018, Minaj posted an Instagram photo with Petty, who was at the time her new boyfriend. Commenters and media outlets brought up the conviction, and Minaj responded, claiming that Petty was younger than Hough and that they were in a relationship at the time of the attack — both of which Hough denies (and neither of which would disqualify the attack from being sexual assault). Hough said seeing Minaj's response, delivered to her millions of followers, was "like reliving it again." Minaj said on her Apple Music show in 2019 that Hough had written a letter recanting the accusations after reporting them, which Hough also says isn't true.
According to Hough, it wasn't until last year that the harassment really started.
In March 2020, Petty was arrested for failing to register as a sex offender in California, at which point multiple friends and family members reached out to Hough to check on her. She says she suspected the arrest would "open up a can of worms for me and my family," assuming Petty would do whatever he could to get himself off the sex-offender registry. Hough says in the lawsuit that she told one of the friends who reached out that she wished the whole case would go away — at which point her friend said, "I can make that happen." Soon Hough says he was telling her Minaj wanted her number.
According to the lawsuit, Minaj called Hough directly, offering to fly her to L.A. if Hough could "help out" by signing a prepared statement taking back the allegations. Minaj also allegedly offered to send her own publicist out to Hough to write a statement. Hough says she declined, telling Minaj, "I need you to know, woman to woman, that this happened."
Then, the lawsuit says, associates of the couple started reaching out, offering various amounts of money for Hough to recant. Hough says they sent lawyers who offered her advice on how to take back what she'd said without facing too many legal ramifications. One offer allegedly included a stipulation that Minaj send birthday videos to Hough's daughter. At some point, Hough and her daughter told the Daily Beast, an associate of the couple — the same friend, according to Hough's lawyer, who initially made the connection with Minaj — showed up at her house, put $20,000 in cash in her lap, and offered her a prewritten recantation statement, which she rejected. After that, she said on The Real, she received a message saying "They're gonna use that money to put on my head." More recently, her lawyer says, the same associate "posted an Instagram video threatening to kill or do bodily harm to Jennifer."
Hough has no plans to take back her accusations, though she says she's scared for her life.
Throughout all this, Hough has moved three times, including out of Georgia and away from her 22-year-old daughter after her daughter was approached in a club by a man asking if she knew Petty, she says. She changed her phone number. She says she hasn't been able to work since May 2020, citing "severe depression, paranoia, constant moving, harassment, and threats." Her lawsuit states she's "currently living in isolation out of fear of retaliation."
Hough's lawyer, Tyrone Blackburn, told Rolling Stone Hough had no contact with Petty or Minaj. "They came after her," he said. "Now she fights back!"
Petty and Minaj have broken their silence over Hough's lawsuit, and Minaj's lawyers are trying to discredit Hough.
For nearly two months, neither Petty nor Minaj filed legal paperwork responding to Hough's lawsuit. On October 11, Blackburn tried to obtain a default judgment from the judge; if granted, Petty and Minaj would have had to pay damages without going to trial. Minaj's lawyer fought this request, and in a sworn statement, Minaj claimed her and Petty's failure to respond was "an innocent mistake," saying they had not received official notice of being served. The court clerk entered a certificate of default against Petty but denied one for Minaj, which would have required her to pay $20 million in damages.
Minaj's lawyers are still working to discredit Hough. On Thursday, TMZ reported that they filed legal documents claiming that Hough's allegations are false and that she made them in an effort to get money from Minaj. Minaj's lawyers also argue there are inconsistencies between Hough's court filings and the interview she gave on The Real. They allege Hough texted Minaj after claiming to have changed numbers, which, they argue, supposedly proves Hough wasn't actually afraid of Minaj harassing her.
Petty currently faces up to ten years in prison and a lifetime of supervised release for his failure to register as a sex offender. His sentencing will take place in January.